Some people — well, a lot of people — come to the movie-viewing table with an extreme position against Robin Williams. His name above the title has been known to raise to the boiling point more than one of the four bodily humors in the average film fan, but ultimately, he's okay. Prejudices (and a specific hefty handful of ultra-maudlin films) aside, he's perfectly alright, and most of the time doesn't resort to the kind of tired tricks that make most of the folks on this kind of list deserve to be on such a list. When you add it all up, he's probably batting around .350 — which is more than you can say in the end for Whoopi Goldberg or (gulp!) Billy Crystal, innit? (Yes, yes, Wililams DID do Father's Day, Patch Adams, What Dreams May Come, Bicentennial Man and Jakob The Liar all in a row.)
The early '90s were a very peculiar time in Hollywood studio history, as many filmmaking superstars were afforded the chance to essentially make preposterously-budgeted art projects that seemed to make no dollar sense whatsoever. Tops on this amazing list are Emir Kusturica's Arizona Dream, Wim Wenders' Until The End of The World, Gus Van Sant's Even Cowgirls Get The Blues — and Bill Forsyth's lone big-budget foray, Being Human, starring our boy Robin. (Before Being Human, Forsyth was known as a kind of Great White Scottish Hope of '80s filmmaking, churning out what The Guardian describes as "quiet must-see little masterpieces".) This one, sandwiched in-between Mrs. Doubtfire and Jumanji in Williams' filmography, totally slipped through the cracks, and always sat there on the ol' video store shelves, quietly calling out to me for some kind of evaulation. From the director of Local Hero and Housekeeping? Of course I would! Here's the theatrical trailer for the film: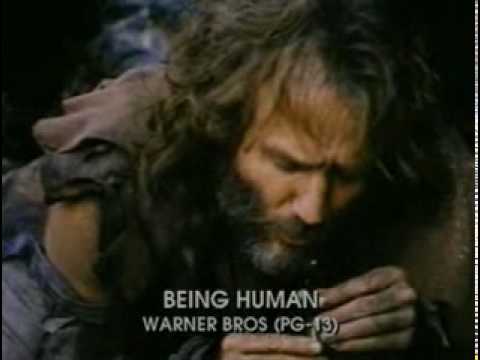 What we've got is an omnibus film, with five different vignettes that take place over the long course of human history — all telling some kind of simple tale of homo sapiens hijinx that eventually unfold a bittersweet life lesson. And Robin Williams plays the main character in all five segments. YES, this does sound pretty grating at the outset, but this is a whisper of a film, a gentle non-melodramatic series of yarns that sit well with you, don't overstay their welcome, and feel more naturalistic than almost anything else Williams has ever participated in. Which means that it was probably destined to not ever be for a mainstream audience (true to this, Being Human was a $40 million early summer-of-1993 release, one which quickly emerged as a giant box-office clunker that critics gave horrendous reviews to. Warner Archive has now finally released the film on DVD, almost twenty years since it originally came out.)
The first section is one of the most fun — a kind of Clan Of The Cave Bear-lite with Williams as the head of a pre-historic family unit whose wife and kids are taken away from him by a travelling band of marauders (or are they?) These strange-looking, strange-speaking foreigners are not exactly hostile, and they don't exactly force the wife and kids into the journey, but Williams' pulse-pounding, on-edge behavior make them think he's a dangerous shaman, so they don't bring him along on their boat before they leave.
This segment is told with an absolute minimum of dialogue (only featuring one-word sentences, and garbled, unsubtitled ancient dialect from the marauders), and it's possibly the most emotionally satisfying of all the segments. Take a peek below at some clips:
Further sequences find Williams as a slave in Roman times (owned by John Turturro!), a medieval Scottish wanderer who falls in love with an Italian maiden with whom he can't communicate through spoken language, a 18th-century Portuguese nobleman whose ill-fated seafaring party crashes their boat on a North African shore, and a modern-day ex-con businessman whose divorce has estranged him from his children. There's very little connective tissue between all the segments, except for, in each of the progressive stories, Williams' father-type figure manages to inch closer to reconnecting with his lost family.
The gentleness is really the key to Being Human's power. At moments, it also threatens to unravel the proceedings: the narration through by Teresa Russell is rather cloying and silly, the throwaway jokes are at times old-mannish, and the final New York City segment with Williams' character and his children teeters very close to the kind of Robin Williams anti-magic that folks love to hate. In Forsyth's defense, the narration was a necessary acquiescence due to disastrous Warner Brothers test screenings that forced him to not only trim 40 minutes from the film, but also to "connect the dots" for the average moviegoing civilian. As well, the "quiet weird uncle in the corner" sense of humor ultimately enlivens the film with a tone almost never found in Hollywood fare, which, in 2012, is briskly refreshing. Here's a bit from the "stranded on a desert shore" sequence:
If you're prone to Williams-bashing, then you're not going to like this film one bit. If you're one of the few who has the balls to bust through the crackly creme-brulee ceiling of adventurous 1990s Hollywood peculiarities, then give this baby a shot! (And, if you're particularly curious to know what might've been contained in the deleted forty minutes, most of it was probably contained in the "sixth segment" of the film, set in the 19th-century American wilderness, that does not appear in the final cut. Was it even filmed? Not sure, but a perusal of the Being Human screenplay reveals it to be pretty lengthy.)