The Raven – 4:45pm
The teaming of Bela Lugosi and Boris Karloff as two of the most idiosyncratic characters of their respective careers instantly renders The Raven a classic must-see — and the tale of a vengeful mad scientist and his murderous cohort still holds up as it builds to its feverish climax. Lugosi is haunting as a morbidly obsessive, Edgar Allen Poe-worshipping surgeon tasked with healing a beautiful car wreck victim with whom he quickly falls in love. Spurned by her and rejected by her family, Vollin hatches a plan that makes grisly use of the Poe-inspired torture chamber on his property. Karloff is also stellar as the conflicted, monstrous escaped convict ensnared by Vollin's scheme after asking for face-altering plastic surgery to begin a new life. Masterfully and tautly edited, The Raven makes perfect use of its stars' sizable capacities for scenery-chewing hysteria and heart-rending sensitivity. Lugosi's performance still elicits shudders: "Death hasn't the same significance for me as it has for you."
The Raven Dir. Lew Landers, 1935, 35mm, 61 min.
House of Horrors – 6:00pm
"Utterly absorbing in its alternately dismissive and sympathetic attitudes toward art and abnormality." — John Beifuss, The Bloodshot Eye
Part film noir, part high-camp Frankenstein, House of Horrors winds its way around a cartoonish version of the New York art world with the snap and melodrama of a riveting vintage radio play. This movie also has gleefully enjoyed a wicked reputation down the decades thanks to Rondo Hatton, its bulbous-faced giant co-star whose visage launched an entire era's worth of kiddie nightmares. An insane and impoverished Peter Lorre-like European sculptor (who occupies a dank, crumbling house full of his own art, mostly enormous headless torsos) is ready to commit suicide by hurling himself into a river — but instead ends up fishing out a disfigured, elephantine serial killer (Hatton), whom he of course employs to viciously murder every slanderous art critic in town! Every time he appears onscreen in this film, Hatton is genuinely disturbing, especially considering his brutish, minimal line delivery and heavy-as-an-anvil deadeye stare. An absorbing little slice of mayhem, House of Horrors is one of the best-kept secrets in the Universal Horror canon.
House of Horrors Dir. Jean Yarbrough, 1946, 35mm, 65 min.
Watch the trailer for "The Raven"!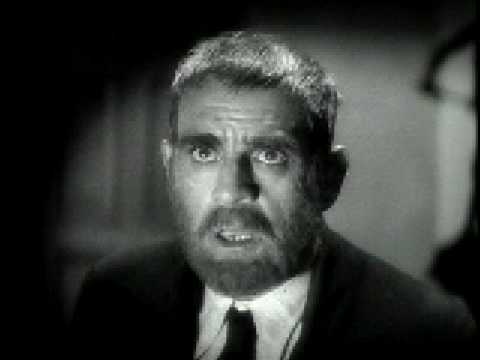 Watch an excerpt from "House of Horrors"!