7:30pm – The Acro-Cats/Rock-Cats LIVE!
9:30pm-ish – "That Darn Cat"
It's a CATastrophic PAWSativly MEOWraculous CATtacular! Join us for a very special evening as we celebrate the worlds cutest cuddliest creatures with a command performance by the world famous Acro-Cats from Chicago. That's right, a live kitty circus* that also doubles as a feline rock band! In showbiz, people often describe production as "herding cats" — and the amazing trainers of the amazing Acro-Cats are literally doing that and so much more. You'll be stunned and awed while you watch the one-of-a-kind troupe's only Los Angeles performance this tour. Plus, stick around after the performance concludes, as we screen the 1965 frolicking feline caper That Darn Cat. The evening also includes some additional kitty surprises (and we don't mean a hairball in your favorite pair of shoes.) It's not to be missed!
That Darn Cat Dir. Robert Stevenson, 1965, 35mm, 116 min.
* Please note: we would never endorse or participate in animal cruelty or abuse; the Acro-Cats are trained in the loving "rewards-based" style, and are well-cared for by their trainers.
Watch an excerpt from a show by The Acro-Cats!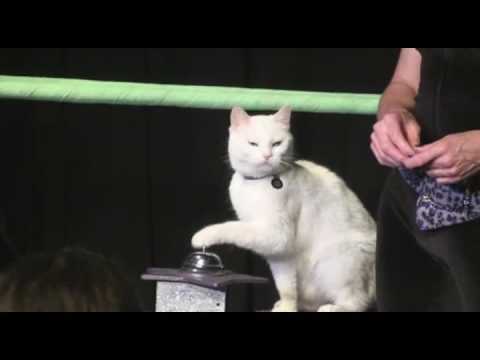 Watch the trailer for "That Darn Cat"!