Co-presented by Finders Keepers Records / B-Music
The evening's screenings are accompanied by Gallic vamp musique courtesy of Finders Keepers DJ sets by Andy Votel, Mahssa, and Sean Canty!
Shiver of the Vampires – 8:00pm
Our tribute to the late, great Jean Rollin (November 3, 1938 – December 15, 2010) continues with a double shot of his early '70s dark fantasies!  First up is Shiver of the Vampires, the sensual work that fully established the visual motifs and overall stylistic approach to which Rollin would return to for most of his subsequent horror efforts.  This bewitching serving of psychedelic stew concerns newlyweds who visit an old castle owned by the bride's dead-'n-fanged cousins.  As the plot progresses (or devolves!), gorgeous vampires, bloodsucking hippies and lashings of lesbian sex all swirl in bizarre, candy-colored lighting (predating Dario Argento's Suspiria by several years), culminating in one of its creator's most visually intoxicating works.  Freakish?  Beautifully macabre?  Instant cult classic?  Yes, yes, and YES!!!!  Finders Keepers celebrates the launch of its new "Rollinade" soundtrack series, which documents some of the finest musical moments of Rollin's career as an avant-gardener, counterculture vulture and Gallic vamp-tramp, by presenting Acanthus' entire unreleased prog-rock score to Shiver of the Vampires on CD and vinyl for the first time.  Imagine an early Gong/Ame Son/Soft Machine session fuelled by a thousand-year-old acid-bathed blood transfusion!
Dir. Jean Rollin, 1970, 35mm, 95 min.
Requiem For A Vampire – 10:00pm
Rollin's jones for long, luscious poetic moments seething with gothic malaise and decay reached its zenith in Requiem For A Vampire, a decadent experience in which the craggy edges of stones in castle walls, the delicate sheen of fabric and cloaks sliding over bare skin, and the warm glow of sunlight over a country field have never looked so beguiling.  Devoid of any spoken dialogue for most of its running time, Requiem bursts out of the gate as two schoolgirl-aged robbers decked out in clown costumes flee their broken-down car on a country road, and wind up at a desolate castle presided over by a cult of vampires.  The film then goes even further than Shiver to remove the tethers of standard narrative, as the girls undergo a serious of sensual, hallucinatory encounters that eventually disintegrate into a horrific nocturnal montage of the girls succumbing completely to the will of the bloodsuckers.  Steadily paced and obviously personal, this "naive" film (to use Rollin's term) resembles an elegent jazz session played out at the edge of a twilight dreamworld.
Dir. Jean Rollin, 1973, digital presentation, 95 min.
Watch excerpts from "Shiver of the Vampires"!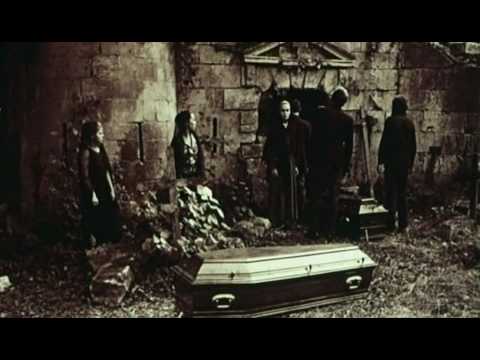 Watch the trailer for "Requiem For A Vampire"!