LOCATION: The Bob Baker Marionette Theater, 1345 W. 1st St., LA, CA, 90026. (213) 250-9995.
http://www.bobbakermarionettes.com
We're stuffing more tricks and treats into this goodie bag than you can shake a broom at, as Screen Novelties (one of LA's premiere stop-motion studios) joins forces with Cinefamily's own Animation Breakdown to present a haunted hullabaloo with (and a spirited fundraiser for) the historic Bob Baker Marionette Theatre!! This goofy, ghoulish spectacular features a fearsome mix of creepy cartoons, vintage Hallow's Eve safety films, madcap musical shorts n' more — along with Halloween puppet performances from the legendary Baker troupe, a kooky monster-making workshop, and a rare screening of the spookadelic '60s stop-mostion animated, Rankin-Bass romp Mad Monster Party! And as if that's not enough, the host of this shuddersome shindig is none other than that legendary comic prince of paraprosdokians Emo Philips !! We couldn't wish for a better emcee of the eccentric to "ghoulardi" over our gruesome gala. Kid-friendly, but fun for all folks: big folks, little folks, dead folks, undead folks, and all yer monster pals.
Mad Monster Party Dir. Jules Bass, 1967, digital presentation, 94 min.
Please note that due to The Bob Baker Marionette Theater's seating layout, chair seating for this event is limited and is first come, first served. Floor seating will also be available.
Watch Cinefamily's original trailer for Screen Novelties' Haunted Hullabaloo!

Watch the trailer for "Mad Monster Party"!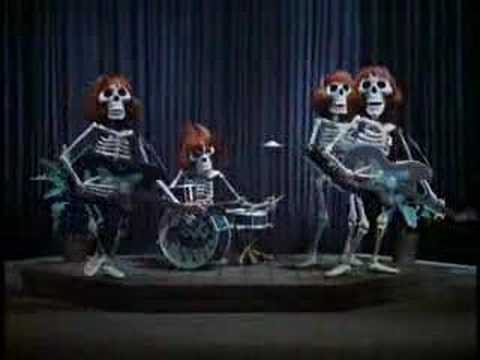 Watch an excerpt from Emo Philips' classic "Live at Hasty Pudding Theater" special!