Red Desert – 7:30pm
Michelangelo Antonioni's panoramas of contemporary alienation were decade-defining artistic events, and Red Desert, his first color film, is perhaps his most epochal. This provocative look at the spiritual desolation of the technological age — about a disaffected woman, brilliantly portrayed by Antonioni muse Monica Vitti, wandering through a bleak industrial landscape beset by power plants and environmental toxins, and tentatively flirting with her husband's coworker, played by Richard Harris — continues to keep viewers spellbound. With one startling, painterly composition after another, Red Desert creates a nearly apocalyptic image of its time, and confirms Antonioni as cinema's preeminent poet of the modern age.
Dir. Michelangelo Antonioni, 1964, 35mm, 120 min.
The Passenger – 9:45pm
Amongst the vast red bleakness of hellish Saharan Africa, the grey architectural wonders of Barcelona and the lush greens of London, Antonioni's trademark visual mastery of exploring man's emotional relationship to his environment is expanded to a global scale in The Passenger. In the director's final flirtation with Hollywood, Jack Nicholson plays a weary journalist who swaps identities with a freshly-deceased arms dealer in order to escape the inner hell of his previous life — without care as to the hairy consequences such a move creates. Dropping all vestiges of his "ultimate movie star" persona, Nicholson loses himself completely in a perfectly rendered feature-length slo-mo scream of despair, as he bounces from country to country, acquiring the beautiful Maria Schneider (Last Tango In Paris) as an erstwhile companion along the way to his impeccably-photographed oblivion. Reducing suspense to a minimum, while employing sly, almost-subliminal editing and architectural camera moves (including the finale: one of cinema's great extending tracking shots), Antonioni has crafted a curious and satisfying take on the "international political thriller", transforming a typical genre exercise into a subdued, sublime travelogue of existential crisis.
Dir. Michelangelo Antonioni, 1975, 35mm, 126 min.
Watch The Criterion Collection's "Three Reasons to see Red Desert"!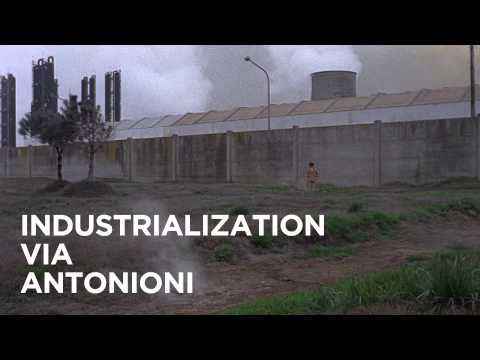 Watch the trailer for "The Passenger"!