Pierrot Le Fou – 7:45pm
A profound turning point in Godard's cinema, Pierrot Le Fou recalls the gangster cool of Breathless and Band of Outsiders, while also pointing towards the increasingly essayistic, apocalyptic visions of Two or Three Things I Know About Her and Weekend. This is Godard in full-on Pop Art mode, firing on all cylinders; cross-cut voice-overs, subjective tinting, high art/low art collage, jolting hairpin turns of plot, and delightful non-actors (or at least one elderly Lebanese ex-princess) all punctuate Raoul Coutard's gorgeous widescreen cinematography. Anna Karina is as alluring here as she is scissor-wieldingly crazed; meanwhile, the more the unflappably cool Jean-Paul Belmondo tries to escape mid-'60s Paris, the more entangled he becomes in Godard's girls-and-guns/drunk-on-the-movies madhouse of style and provocation — a stew so dense and exciting that fellow French director Chantal Akerman once said "I saw Pierrot Le Fou by chance — I decided to make movies the same night."
Dir. Jean-Luc Godard, 1965, 35mm, 110 min.
Film Socialisme – 9:45pm
A scintillatingly deconstructed filmic essay that's as lyrically persuasive as it is visually and sonically fractured, Film Socialisme might be Godard's most rigorous and thorough reinvention of cinema yet. Opening on a cruise ship in the middle of the Mediterranean sea , the film unfolds elegantly into a global tryptic whose second panel shows us a family-run garage in France, and whose final segment explodes across a half-dozen historical Mediterranean nexus points. A humanist critique of how culture and commerce intersect and collide across international borders, Film Socialismes kaleidoscopically color-saturated screen overflows with life – spies, would-be-presidents, ornery children, Patti Smith(!), immigrants, and even a llama help make up the film's populist panorama. The soundscape is an even more densely populated, intricately edited polyglot maze of overlapping languages and ambient recordings. For all its fractured experimentation, Film Socialisme is nearly seamless — it doesn't so much shatter cinematic conventions as melt them. Our screenings of Film Socialisme are presented with FULL English subtitles (for the first time ever in the U.S.!), rather than previous international screenings' "Navajo English" subtitles.
Dir. Jean-Luc Godard, 2010, HD presentation, 102 min.
Watch the trailer for "Pierrot Le Fou"!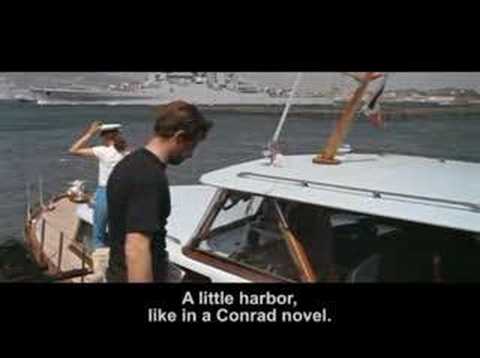 Watch the trailer for "Film Socialisme"!