SCHEDULE OF FILMS:
Americana – 2:00pm
Willie Nelson's 4th of July Picnic – 4:30pm-ish
Cinefamily's "Mondo America" video mix – 7:00pm
Jabberwalk (aka This Is America) – 7:30pm
Red Dawn – 9:45pm-ish
It's all planned out: an open door to our back patio, good music, friends, and that most American of traditions — a BBQ, so bring something to grill! Plus, we've got a patriotic free-for-all of film formats, from DVDs to 16mm industrials, to 35mm features — alongside Cinefamily's time-honored signature Mondo video mix on the subject of our exalted homeland!
AMERICANA – 2:00pm
A true labor of love for director/star David Carradine, this small-town tale of a troubled, wandering veteran attempting to restore an old merry-go-round ride is a feast of character subtleties, and is the perfect way to kick off the day's films.
Dir. David Carradine, 1983, 35mm, 91 min.
WILLIE NELSON'S 4TH OF JULY CELEBRATION – 4:30pm-ish
An incredibly rare boozy 'n woozy full-length concert film, shot at the 1977 edition of Willie's very informal annual 4th of July concert festival. Featuring Willie, Waylon, Leon Russell, Doug Kershaw and other great country stars singin', sweatin', partyin' — and most importantly of all, drinkin'. These folks were some of the ultimate party animals, with Leon Russell emerging as the King of Booze in some of the most gloriously inebriated footage ever shot! As Austin, TX's Alamo Drafthouse says: "These good ol' boys knew as much about partying as Marie Curie knew about radium. Be there!"
Dir. Yabo Yablonsky, 1977, 35mm, 90 min.
JABBERWALK (aka THIS IS AMERICA) – 7:30pm
The incredibly rare, full-length '70s mondo movie (aka Italian shockumentary) Jabberwalk aka This Is America aka Crazy Ridiculous American People (turn that one into an acronym for a cheap giggle), a skewered funhouse-mirror view of our native culture through foreign eyes. Let's let Luigi explain: "Americanos! We Italianos love you, and your large country, with your dolce vita of USA! We want to help make-a much crazytime on your birthday. Happy Birthday, America! Our film-a shows what makes you big Ragu — numero uno! It has the love we think about you: ceremony for the awards in big-a bellisimo porno, factories for make-a the dildoes, cocaine churches, a wonderful family eating meal together of worm spaghetti. Mmmmmm, worms — mange!! Mange the worms-a! And everyone has the guns! In the supermarket-a! On the honeymoon! Guns! Bang, BANG! GUNS! After we film the world, looking for the things that make-a us laugh, we find the best right here on your soil. Abbondanza!!!!"
Dir. Romano Vanderbes, 1977, 35mm, 97 min.
RED DAWN – 9:45pm-ish
From the mind of the man who birthed the infamous line "I love the smell of napalm in the morning," and meant it! There's no better way to celebrate America than by enjoying pure American propaganda targeted at children, and John Milius's Red Dawn is easily one of the most entertaining and satisfying jingoistic youth actioners ever filmed, as well as being one of cinema's great "what if?" pictures. In the mid '80s, America's triumphant years are finally up, as the Commie Reds parachute down onto our streets and playgrounds to mercilessly lock our fathers in concentration camps, and gleefully shoot our schoolteachers in the face. Luckily, a ragtag band of high-school-football-playing meatheads (C. Thomas Howell, Charlie Sheen, Patrick goddamn Swayze) are ready to take to the hills and fight back against our new Soviet overlords. So grab your canteen full of deer blood, take a swig and join us in the name of liberty. GO WOLVERINES!!
Dir. John Milius, 1984, 35mm, 114 min.
Watch the trailer for "Red Dawn"!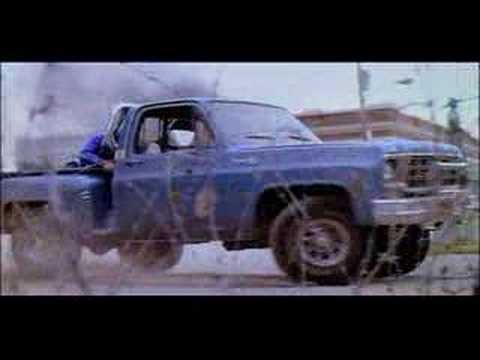 Watch excerpts from "Willie Nelson's 4th of July Picnic"!

Watch an excerpt from "Jabberwalk" aka "This Is America"!

Watch excerpts from "Americana"!