Let The Good Times Roll – 8:00pm
Shattering all preconceived notions of classic Fifties rock 'n roll's vitality or relevance, Let The Good Times Roll — a blistering split-screen document of a 1973 "reunion" concert featuring sets by Little Richard, Chuck Berry, Bo Diddley, Fats Domino, Bill Haley and the like, all bolstered by vintage footage of Eisenhower-era trappings — sweats, shakes, rattles and rolls with enough force to make even the staunchest longhair clap along and twist their hips. This ain't no nostalgia trip, however; this is one pure mainline of devastatingly feelgood material, captured in intimate widescreen closeups that put you not just in the first row, but planted right at the feet of the timeless performers. Bo Diddley and Little Richard are particularly on fire here, effortlessly essaying their time-honored tracks into fierier, sharper, even more astonishingly boss '70s sounds. Part found-footage bonanza, part social commentary, all killer and no filler, Let The Good Times Roll is an unforgettable ride to the heart of the modern American soul. Be there!
Dirs. Robert Abel & Sidney Levin, 1973, 35mm, 99 min.
Elvis On Tour – 10:00pm
Beaming in his rhinestone rodeo duds, backed by the tightest band conceivable and with all the shimmering energy of a thousand volcanic suns, Elvis Presley hipquakes his way through the vérité doc Elvis On Tour with all the resplendent theatricality of an Aztec god, and we are left to bask in the afterglow. Capturing all the nooks and crannies from a wildly successful 1972 U.S. tour — and utilizing enough completely rad split- and multi-screen projections to make even Brian De Palma squeal — co-directors Robert Abel and Pierre Adidge (with a little help from the film's "montage supervisor" Martin Scorsese) paint an astounding fly-on-the-wall portrait of Elvis as a generous, easy-goin' Southern boy who just happens to moonlight as an ultra-hard-workin' American icon to gazillons of fevered disciples, young and old. Set against all the juicy Memphis Mafia-populated limo rides, misty morning private jet encounters and hysterical adulations from the beehived "kiss my grits!" crowd we'd rightly expect, Elvis On Tour lovingly presents The King at the peak of his post-'68 comeback game.
Dirs. Robert Abel & Pierre Adidge, 1972, HD presentation, 93 min.
Watch Chuck Berry perform in split-screen Panavision in "Let The Good Times Roll"!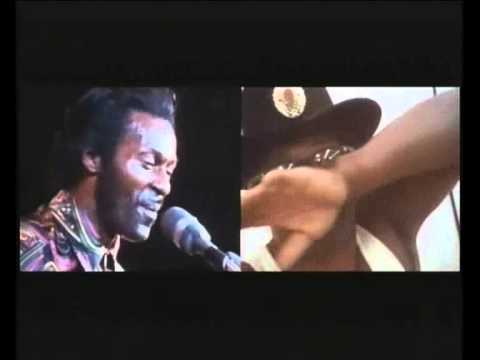 Watch the trailer for "Elvis On Tour"!