SHADOWS – 8:00pm
Shadows isn't America's first independent feature film, but it is the first beatnik feature (originally shown on a double bill with Pull My Daisy), and it's the first indie to put everything on the line for its uncompromising new approach to style and subject matter. In his directorial debut, John Cassavetes tells a risky, elliptical story about love, money, sex and blackness in Beat-era New York, using the rough-hewn, handheld vérité style that helped redefine American filmmaking for decades to come. A jazzy, acutely honest portrayal of a "family" of young turks' voyage through the frayed bloodstream of the subterranean scene, Shadows' off-the-cuff narrative and staccato editing share a clear affinity with bop: the wall-to-wall improvised-seeming performances by a cast of then-unknowns takes flight in extended riffs on sculpture or the telling of a good joke, only to cohere with explosive clarity in scenes of racial and romantic confrontation — and, Cassavetes gives room for each actor to shape their character, like a bandleader calling out solos. The filmmaker would refine this style in later pictures, but one doesn't look to Shadows for refinement, for it is as raw, direct and original as the day it first hit the screen.
Shadows Dir. John Cassavetes, 1959, 35mm, 87 min. (Archival 35mm print preserved by the UCLA Film & Television Archive. Preservation funded by The Film Foundation.)
"JOHNNY STACCATO": Cinefamily Favorites – approx. 10:00pm
A New York counterpart to the crime-solving hipsterism of its contemporary Peter Gunn, Johnny Staccato is still riveting in ways long removed from its lone '59/'60 season. Cassavetes-lovers can get hours of our main man as a moody jazz combo pianist who moonlights as an unorthodox detective, and the style points go through the roof from there: amazing wardrobe, fakey sets, and superb music on the soundtrack, all bubbling within overblown plots and chewy dialogue. The young, mercurial Cassavetes is a blast, updating the old '40s noir detective fighting a confused world to the '50s beatnik era — and the series' parade of guest stars is equal fun, as the show's run included one-off turns by Dean Stockwell, Cloris Leachman, Martin Landau, Mary Tyler Moore and even Gena Rowlands! Join us for a dose of this hidden treasure of golden-era television!
Watch the trailer for "Shadows"!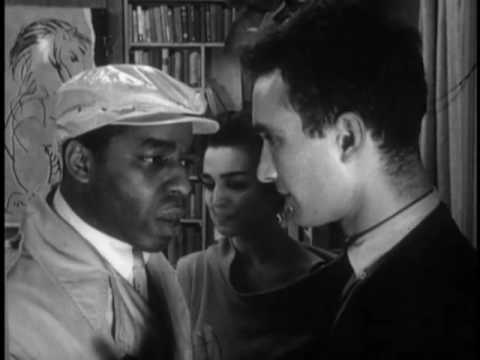 Watch the opening credits sequence from "Johnny Staccato"!