Step (Free sneak peek with special guests!)
Presented by Women of Cinefamily
With special guests Blessin Giraldo, Cori Grainger, Tayla Solomon, Gari "Coach G" McIntyre, and Paula Dofat in person!
"You mess with my sisters and you mess with me!" That's the chant of the "Lethal Ladies" of the Baltimore Leadership School for Young Women, the all-girls high school competitive step dance team that is about to rock your world and move you to tears, in the most inspiring documentary of the year. These young women are part of the founding class of a non-profit college prep school – whose stated goal is that EVERY participant be accepted to and graduate from college; for many of the girls, they will be the first in their family to do so. Amanda Lipitz's Step brings you along on their journey, skillfully interweaving the tales of three girls in particular, in this uplifting tribute to the world's greatest moms, sisterhood, and the indomitable spirit of young girls when they stick together. In theaters August 4th
Dir. Amanda Lipitz, 2017, DCP, 83 min.
NOTE: To help us track attendance, you must pre-register for "first-come, first-serve" admission. Your registration does not guarantee you a seat.
Cinefamily is a non-profit. All of our donating 1-year "Black Card" members get priority entry to our free shows. Donating for a Cinefamily membership is the perfect way to both support the theater, and to gain access to the early-entry line.
Watch the trailer!
An Evening with Anna Karina featuring A Woman is a Woman
Women of Cinefamily presents an evening with actress, director, screenwriter, and legendary muse of the French New Wave, Anna Karina! Following a conversation with Karina, we will screen one of her celebrated collaborations with Jean-Luc Godard, A Woman Is A Woman.
Godard's first in color and Cinemascope, A Woman Is A Woman is a bright, playful opera of opposition to the very end, with every moment a potential opportunity to burst into song and dance. In fact, the score is intrinsically linked to the characters' melodic cadences and their flippant, impulsive actions. Youthfully veiling topics like politics, relationships, and the inherent challenges of love with carefree quips about correct pronunciation and book titles, characters casually break fourth walls, ride bicycles 'round dining room tables, and engage in highly competitive pose-offs. In her feature debut, Godard muse Anna Karina plays free-spirited beauty Angela, an impassioned striptease artist who yearns desperately for a child, tearing her between two men (Jean-Paul Belmondo and Jean-Claude Brialy) engaged in lively competition for her affections. Every visual and aural element in this self-referential, smoky dreamscape of conceptual editing and musical direction is lightheartedly collaged into a delectable New Wave melting pot of experimentation, producing one of the ultimate paradigm-shattering takes on the classical romantic comedy.
Dir. Jean-Luc Godard, 1961, 35mm, 85 min.
Tickets – GA – $25 / VIP Seating & Private Pre-Reception (Beginning at 6:30pm) – $45
The Summer of Sangaile
With DJ Vickki and DJ Shmal
The Lithuanian answer to Blue is the Warmest Color—this time void of the male gaze—The Summer of Sangaile presents a dreamy lakeside love story between two young girls who tumble together through a brief but tender summertime season. Auste, a local unafraid to immerse herself in the riches of life's pleasures, meets and falls for the reserved Sangaile, who harbors a not-so-subtly symbolic interest in aerobatic stunt planes. With a serene landscape that could get top billing as a lead character and cinematography that lingers on sunsoaked kneecaps and collar bones, second-time director Alanté Kavaïté has created a gorgeous film rife with Sapphic bliss. Driven by the female gaze of its maker, The Summer of Sangaile is sumptuous and seductive, bolstered by an affecting story of self-discovery beneath its gossamer surface.
Dir Alanté Kavaïté, 2015, DCP, 88 min.
Watch the trailer!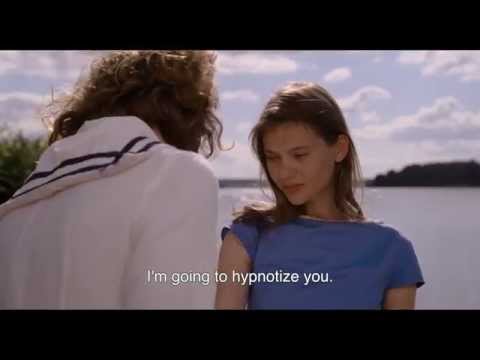 WOMEN OF CINEFAMILY PRESENTS: Mustang Opening Night Party!
Live Set from DJ Mukta Mohan of Honey Power + and KXLU 88.9fm!
Part suspenseful-drama, part fever-dream, and with undeniable echoes of Sofia Coppola's Virgin Suicides (but without the bona-fide male gaze-y perspective), Mustang follows five fiercely bonded, beautiful, and strong-willed sisters as they are imprisoned in their own home, under the rule of their conservative grandmother and authoritarian uncle. Set in a sleepy Turkish town on the coast of the Black Sea, Deniz Gamze Ergüven's directorial debut, and this year's French submission for the Academy Award for best Foreign Film, is an irresistible fairy tale-nightmare that effortlessly pulls you under its enchanting spell.
As they are groomed for marriage, the sisters face more than the melancholy that comes with loss of childhood naiveté; they are also handed a heavy dose of cabin fever and a veritably nightmarish initiation into male-dominated society. But despite the construction of literal walls around them, the "mustangs"—described by Ergüven's as a five-headed hydra—find moments of pure ecstatic happiness, always resisting the cruel hand they've been dealt, in this moving and stridently feminist cinematic gem.
Dir. Deniz Gamze Ergüven, 2015, DCP, 97 min.
Watch the trailer!
Women of Cinefamily presents Daisies
Daisies is a bubbling and buoyant spring of irrepressible female creativity; it is an overflowing audio-visual bouquet of color, music and texture; it is a freewheeling and effervescent farce, a formal free-for-all, a paradoxical mixture of bourgeois indulgence and cultural critique, and it's your next favorite movie. Two young Czech girls (both named Marie) decide that the world is so corrupt that they might as well join in, and they do so with wild abandon — prancing, food-fighting, pranking old men, carousing in nightclubs and creating anarchy everywhere they go. Director Vera Chytilova's love of cinema's potential is both playful and palpable, as exuberant as the spirit of the two "daisies" whose misadventures have surprising weight and meaning. Banned upon its release by the Czech government, Daisies has become a major cult favorite thanks to its dazzling setpieces, charismatic and fashionable art-girl heroines, and an infectious sense of fun that's as potent today as it was when it first premiered behind the Iron Curtain.
Dir. Vera Chytilova, 1966, Digital Presentation, 74 min.
Watch the trailer!
WOMEN OF CINEFAMILY: ROOM (Free Sneak Peek w/ Dir. Lenny Abrahamson, Screenwriter Emma Donoghue & Star Brie Larson in person!)
NOTE: To help us track attendance, you must pre-register for "first-come, first-serve" admission. Your registration does not guarantee you a seat.
LOCATION: Silent Movie Theater, 611 N. Fairfax Avenue, 90036.
All of our donating 1-year "Black Card" members get priority entry to our free shows at the Silent Movie Theater location. Donating for a Cinefamily membership is the perfect way to both support the theater, and to gain access to the early-entry line.
"Lenny Abrahamson's inevitably telescoped but beautifully handled adaptation retains considerable emotional impact as it morphs from a taut survival thriller into a hauntingly conflicted drama of loss, mourning and gradual reawakening."
– Variety
Adapted by Emma Donoghue from her own best-selling novel on which the film is based, ROOM is a suspenseful psychological drama, and winner of the People's Choice Award at TIFF 2015! Starring Brie Larson (Short Term 12) and the precocious talent Jacob Tremblay as a mother and son confined to a soundproof shed by their kidnapper, ROOM captures the claustrophobia of their abbreviated surroundings, and their simultaneously traumatic and victorious experience as they are catapulted out and into the world beyond the confines of "room."
Please join us for this exclusive sneak peek, and rare opportunity to see what will surely be one of the most buzzed about films of the season, presented by the Women of Cinefamily!
Watch the trailer!
Women of Cinefamily Presents: 3 Women (Hosted by Alia Penner!)
THIS IS YOUR NEW FAVORITE FILM, featuring one of Sissy Spacek's greatest performances, Shelley Duvall's absolute best performance, and the most intrepid vision of Robert Altman's prolific body of work. In an underpopulated California desert town, the naive southern waif Pinky Rose (Spacek) idolizes and befriends her fellow nurse, the would-be sophisticate and "thoroughly modern" Millie Lammoreaux (Duvall). When Millie takes Pinky in as her roommate, Pinky's hero worship evolves into something more supremely sinister than either could have anticipated. Audacious, consciousness-expanding visuals abound, as 3 Women careens from the humorous to the chilling to the surreal — with the audience never quite knowing if the film's "reality" will bend or shatter, all while Altman sprinkles in his trademark dry wit and devastating character studies. A priceless freakout snapshot of Carter-era Americana blanketed by an unforgettable score from avant-garde composer Gerald Busby, 3 Women remains one of Altman's greatest achievements.
Dir. Robert Altman, 1977, DCP, 124 min.
WOMEN OF CINEFAMILY PRESENTS: Garbo's Desert Island Discs (feat. "Ninotchka", hosted by Allison Anders and Illeana Douglas!)
Obsessive music fan/Don't Knock The Rock curator Allison Anders recently acquired at auction a vinyl fetishist's goldmine: a crate of records which belonged to the ever-reclusive Greta Garbo. In addition to writing a film on the subject of Garbo, Allison started a blog dedicated to the collection (http://gretasrecords.tumblr.com) — and tonight, she and pal Illeana Douglas (whose grandfather Melvyn worked on three of Garbo's classics) share rare stories about the "Sphinx of Hollywood", while Tiffany Anders spins from the record crate. Then we'll screen of one of Garbo's most iconic films, Ninotchka. In her penultimate role, Garbo takes a brilliant comedic turn as a stern, hard-line Communist diplomat landed in Paris to facilitate the sale of confiscated Tsarist jewels. Garbo's deadpan, fiercely dedicated Red is hilariously unimpressed by the screwball decadence of Parisian life, until Melvyn as the charming Count Leon melts her Siberian heart, and she learns that capitalism may not be so bad after all. A huge success overseas during WWII, Ninotchka was (natch) banned by Russia.
Ninotchka Dir. Ernst Lubitsch, 1939, 35mm, 110 min.
Watch an excerpt from "Ninotchka"!