Charlie Chaplin in "The Kid" + "A Dog's Life" (Father's Day Matinee!)
"But it was in The Kid that Chaplin seemed to realize, at last, precisely what was required." – Walter Kerr, The Silent Clowns
In celebration of Father's Day, The Cinefamily presents two of Chaplin's most moving and beloved films: The Kid and A Dog's Life. Chaplain's co-star in A Dog's Life, "Scraps," is a mutt cast from the LA Pound, who the Little Tramp saves from a pack of mongrels and who, through a series of hijinx leads the down-on-his-luck Tramp and his dance hall girlfriend to a better life. A massive success, A Dog's Life was Chaplin's first movie to make $1 million, leading him to direct The Kid, his first feature-length film. In The Kid, the Tramp adopts an abandoned toddler (Jackie Coogan) whom he discovers in an alley, and raises him to become his sidekick in a variety of schemes and cons.The Kid is a moving and hilarious portrait of paternal love and the landmark work of genius, in which Charlie the jester blossomed into Charlie the full-blooded actor, whose iconic dignity in the face of comic adversity has continued to make him one of our greatest cinematic treasures.
A Dog's Life Dir. Charles Chaplin, 1918, 35 mm, 33 mins.
The Kid Dir. Charles Chaplin, 1921. 35mm, 68 min.
dublab presents...A LABRAT MATINEE XIII: Peanut Butter Wolf's Video Commandments
Special Edition curated by Peanut Butter Wolf!
Our good friends at long-running L.A. institution dublab are back at Cinefamily with another evening of wild intersections of music and visuals. Peel back the layers and open your eyes wide to witness a mind-melting collage of rarely seen music videos, comedy clips, far-out animation and high vibrational scenes. Don't miss these visions burning bright!!!
The Yes Men Are Revolting (LA premiere w/ The YES MEN, co-director Laura Nix and EP Adam McKay in person!)
Co-presented by Funny or Die, with Yes Men/directors Andy Bichlbaum and Mike Bonann, co-director Laura Nix, and Executive Producer Adam McKay in person for the Q&A!

America's favorite agitprop pranksters are back, this time to take on Global Warming with their arsenal of bogus press conferences and assumed identities. Part Bond/part Borat, Mike (the straight one) and Andy (the gay one) boomerang the globe – storming the UN with Survivaballs™ (giant inflatable condoms that protect you from atomic radiation and terrorist attack alike), plotting with Ugandan activists to demand "carbon debt reparations" at a Copenhagen climate summit, introducing Shell's new Arctic Drilling slogan in Seattle ("We're Pumped!"), shanghai-ing the U.S. Chamber of Commerce or the Homeland Security Conference, or delivering a fake polar bear to the Amsterdam Zoo, courtesy Russian oil leviathan Gazprom. Along the way, we get privileged windows into their private lives: Mike's parents in upstate New York, or the birth of his child in Scotland; Andy's new Brooklyn boyfriend, or the airplane graveyard outside Tucson that was his high school refuge. Until history overtakes them – the Arab Spring, Zuccotti Park, Hurricane Sandy – and they get their victory lap as accidental elders. Fans of Mads Brugger or Phil Hendrie, take note.
Dir. Andy Bichlbaum, Mike Bonann, Laura Nix, 2014, DCP, 91 min.
THE WOLFPACK (Free Members-Only Sneak Preview with the Wolfpack brothers and director Crystal Moselle in person + Post Reception!)
Winner, 2015 Sundance Grand Jury Prize. Despite growing up on the Lower East Side, the six Angulo brothers know little of New York City or the outside world. They have no acquaintances outside their family and are rarely permitted to leave their home. Much of what they know of the world was gleaned from the films they watch obsessively and recreate meticulously, using elaborate homemade props and costumes. When one of the brothers ventures out for the first time (wearing a Michael Meyers mask), the power dynamics in the house are transformed, and his brothers are soon to follow. With incredible access into the subjects' world and vast archive of home movies, director Crystal Moselle has crafted a fascinating coming of age story, charting an extraordinary family whose lives are a true example of the transformative power of movies. (Rooftop Films)
(Crystal Moselle | USA | 89 min.)
Watch the trailer!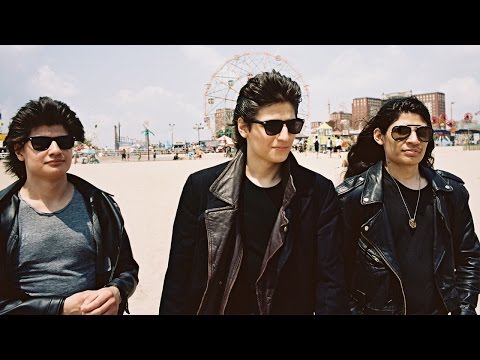 GET MEAN (Brand new restoration, Presented by William Lustig w/co-stars Tony Anthony ,Lloyd Battista & Producer Ronald Schneider in person for Q&A, moderated by Rob Word, Host & Producer of "A Word on Westerns"! Free poster signing!)
The unofficial fourth installment in Tony Anthony's "Stranger" spaghetti western series, Get Mean (1975) is one of the more bizarre and inventive examples of this pliable, ambidextrous genre in its waning days. Anthony and Italian director Ferdinando Baldi (the influential Django, Prepare a Coffin with Terence Hill) had previously collaborated on the pasta-delic Blindman (1971). Borderline psychedelic, not to mention historically fakakta, Get Mean's plot (Anthony's wise-ass gunslinger is hired by gypsies in late 19th century Wisconsin to return a deposed Spanish princess to her desert kingdom) is a mere pretext to unleash a barrage of highly entertaining explosions, high-camp gay villains, laughing skeletons, gypsy soothsayers with supernatural mirror-balls, Barbarian hordes vs. Moorish hordes, gang-rape by angry harridans, and a hero who turns black and is almost roasted like a pig. —Howard Berger
Dir. Ferdinando Baldi, 1975, DCP, 84 min.
Watch the trailer!
Bronson (soundtrack LP release party, filmmaker Nicolas Winding Refn in person!)
With Nicolas Winding Refn in person!

To celebrate Milan Records and Nicolas Winding Refn's new release of the full soundtrack to Refn's classic film Bronson—on gatefold, double vinyl no less—we present a very special screening and record-signing, with Nicolas Winding Refn in person! Bronson is based on the true story of Britain's most violent and expensive prisoner, the ultra- violent career criminal Charles Bronson. An unnervingly bizarre and disturbing performance by Tom Hardy fills every minute of the film. With an aggressive and effective storytelling style, our protagonist narrates his tale to an anonymous audience from an Edwardian music hall stage whilst dressed as a circus strongman. Bronson is a can't miss cinematic experience. Directed by Nicolas Winding Refn (Drive, Only God Forgives) Bronson is a virtuosic explosion of style filled with twisted theatrical imagery, the music of Wagner, Puccini, and the Pet Shop Boys, and a truly terrifying portrayal of Britain's most notorious criminal. The latest, greatest gangster film in a long tradition of badass British thrillers. Join us on the patio after the film and Nicolas Winding Refn will sign your record!
Dir. Nicolas Winding Refn, 2009, 35mm, 92 min.
Watch the trailer for "Bronson"!