Special Events-January 2015
FREE SNEAK PREVIEW: Wild Tales (filmmaker in person!)
NOTE: To help us track attendance, you must pre-register for "first-come, first-serve" admission. Your registration does not guarantee you a seat.
The brand-new Argentinian anthology film Wild Tales brings us six strange, emotional and satirical stand-alone short films, all based on the theme of retribution. Very much a Twilight Zone or Black Mirror vibe, with a playful post-Tarantino twist. And, it's just been selected as one of the five nominees for the Best Foreign Language Film Oscar. We're lucky to catch its filmmaker, Damián Szifrón, while he's here in town for a Q&A after the film!
Dir. Damián Szifrón, 2014, DCP, 122 min.
Watch the trailer for "Wild Tales"!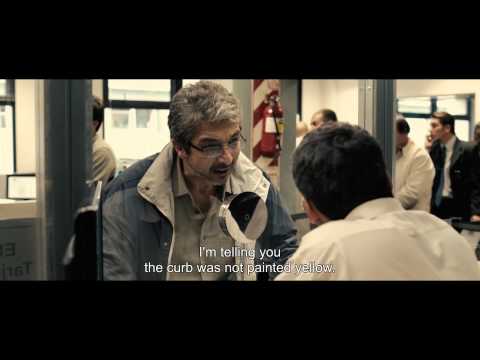 Earth Girls Are Easy (presented by 5 Every Day, Angelyne in person!)
Free snacks after the show on our back patio, courtesy of Donut Friend and Starry Kitchen!
Cinefamily couldn't exist in any other city but right here, perhaps the greatest metropolis on the whole ball o' wax — and to know the real scoop, we check in constantly with 5 Every Day: the app updating us daily with five curious, cool things to do in our town. The 5 Every Day gang (including your hosts, Claire & Jona from the band YACHT) bring us one of the most surreal, depictions of L.A. to ever grace the screen: Julien Temple's Earth Girls Are Easy, presented in a super-rare 35mm screening. And, co-star Angelyne will be here in person! The show begins by premiering the latest episode of Tom Explores Los Angeles: Tom Carroll's idiosyncratic web series chronicling our burg's hidden histories.
Earth Girls Are Easy Dir. Julien Temple, 1988, 35mm, 100 min.
Plus, the show serves as the launch of 5 Every Day's new secret society/loyalty club "Club 5"; the first 50 people in line will get a free Club 5 lapel pin that gets you perks and discounts all over town.
Watch Cinefamily's original trailer for "Earth Girls Are Easy"!

Chewing (presented by Hellfyre Club, world premiere plus live instrumental sets!)
To accompany the world premiere of their new tour documentary Chewing, L.A. hip-hop label/organism Hellfyre Club brings live DJ and beat sets by Busdriver, Scallops Hotel, Kenny Segal, and VerBs! How do you imbue the importance of a song onto a mass? Can something as immaterial as music leave an enduring mark? For artists like the members of Hellfyre Club, the answers are found by tirelessly touring North America. A chronicle of Hellfyre's recent DIY journey in support of their 2014 mixtape "Dorner vs. Tookie", Chewing finds Busdriver, Nocando, Open Mike Eagle, and Milo circling both America and Canada, ripping it up live and in the studio, and sounding off on the state of rap, the indie music economy and what ails the nation. Shot from the most unassuming of perches by frequent Hellfrye collaborator WC Tank, Chewing's winding, humorous narrative gives us a crystalline glimpse into each of the musicians' own singular, abstract and highly personal styles.
Watch the trailer for "Chewing"!

YouTube Paarty: January '15
Insanely low view count? Check.
Incredible wealth of bored eccentrics on display? Check.
Impossible-to-predict mindset of the uploader? Check.
Indescribable, inscrutable, and quite possibly impressive? Likely.
We tried this back in November, and it felt pretty good. It's the second in an experimental series of public Cinefamily YouTube spelunkings. Over the years, we've accumulated such a juicy cache of bookmarks begging to be audience test-driven that it was absurd we weren't sharing them with you in an organized fashion. Plus, some of the greatest nights (and greatest belly laughs) of our programming staff's lives have been those impromptu jaunts through YouTube's dusty back alleys. Come board the monorail, and whoosh around the world's largest repository of video detritus LIVE for your amusement/bemusement. Plus, we'll have snacks.
Craig Denney's "The Astrologer" (January encore!)
"You're not an astrologer…YOU'RE AN ASSHOLE!" — Arthyr Chadbourne, in The Astrologer
Our compatriots at Austin, TX's American Genre Film Archive bring us a lost masterwork of such feverish potency that it immediately evokes memories of Top 10 Cinefamily Bizarro Moments Of All-Time like Dangerous Men, Lost In The Desert and After Last Season. The brainchild of writer/director/star/supposed celebrity astrologer Craig Denney, 1975's The Astrologer is a self-aggrandizing yet completely dislocating auto-biopic journey into "What makes a world-famous zodiac peddler tick?" Natch, it involves humble beginnings as a carnival huckster, diamond smuggling, African jail, Indiana Jones-level daring-do, carousing in Valley dive bars with haggard-as-hell barflies, an avant-garde film-within-the-film (titled The Astrologer), slo-mo food fights and more Moody Blues than you can handle. No situation is too nutz for Denney to flash his irascible smirk at — and no single scene will ever prepare you for what the next will be. A shattering missive from the outermost limits of cinematic sanity — and the most delirious film find of 2014, discovered amongst the impossible hodgepodge of over one thousand donated 35mm prints from a single humungous batch. HOLY FUCKING SHIT.
Dir. Craig Denney, 1975, 35mm, 77 min.
Watch Cinefamily's original trailer for "The Astrologer"!