Special Events-February 2013
OFF-SITE: Upstream Color (sneak preview, director/star Shane Carruth in person!) @ Sundance Sunset Cinema
Filmmaker Shane Carruth in person!
LOCATION: Sundance Sunset Cinema, 8000 W. Sunset Boulevard, 90046. This screening will not take place at the Cinefamily's Silent Movie Theater location!
NOTE: we are unable to offer Cinefamily members free admission to this event.
Director/writer/star Shane Carruth will be at the show in person for a Q&A after the film!
Dir. Shane Carruth, 2013, digital presentation, 96 min.
Watch the trailer for "Upstream Color"!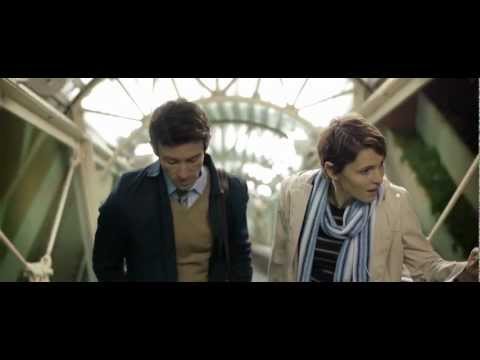 POTLUCK EVENT: Jerry Beck's Looney Tunes-A-Palooza!
An epic afternoon of WB cartoon mania!
NOTE: This event kicks off with a potluck lunch; things like bags of chips and drinks are not encouraged — please bring a dish. Impress us!
POTLUCK LUNCH: noon-1PM
LOONEY TUNES-A-PALOOZA: 1PM-7PM
What's up, Doc? Six hours of Bugs, Daffy, Porky, Tweety and Sylvester. Six hours of Fudd, Sam, Taz, Wile E. and Foghorn. Six hours of of Warner Brothers animation madness featuring the best cartoons ever made, and a ton of extras. Hosted by Cinefamily's resident cartoon historian Jerry Beck (author of "The 100 Greatest Looney Tunes"), this all-day cartoon feast features rare film prints in 35mm and 16mm, as well as odds and ends including behind-the-scenes footage, uncensored cartoons that aren't on DVD or YouTube, and selected episodes of the rarely-seen primetime Bugs Bunny Show (ABC, 1960). It's a Technicolor wet dream for all Warner-holics who like their Melodies "Merrie" and their Tunes "extra-Looney". Can you survive it?! Plus, the potluck energy will continue throughout the whole shebang, and audience members who stay with us through the entire six hours get a Looney-Tuney prize!
Chuck Jones Centennial Celebration, Day 2 (feat. The Phantom Tollbooth)
A rare screening of the 1970 feature film!
Take one of the world's greatest directors of animated films, and the author of "the American Alice In Wonderland" (The A.V. Club), and what do you get? The collaboration between Chuck Jones and children's author Norton Juster was a match made in heaven — resulting in the feature-length 1970 live-action/animated adaptation of The Phantom Tollbooth (the groundbreaking novel originally illustrated by Jules Feiffer, that has continuously remained in print for the last fifty years.) Join us as we revel in this underseen nugget, starring Butch Patrick of The Munsters — as well as the Oscar-winning 1964 short The Dot And The Line: A Romance In Lower Mathematics, also written by Juster and directed by Jones. Plus, the show features opening remarks from animation historian Jerry Beck!
The Phantom Tollbooth Dir. Chuck Jones, 1970, 16mm, 90 min.
Watch the trailer for "The Phantom Tollbooth"!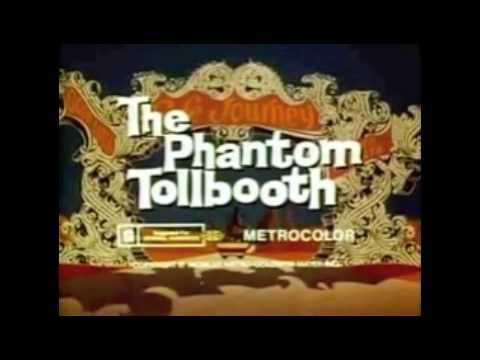 Chuck Jones Centennial Celebration, Day 1 (feat. his greatest Looney Tunes!)
Chuck amuck!
We're living in a platinum age — for it's time to celebrate the 100th birthday of one of the all-time greatest directors of animated shorts, Chuck Jones! This incredible tribute to the master features 35mm prints of Chuck's best cartoons, direct from his personal vault. In addition to Bugs, Daffy and Elmer, we'll be running those undeniable classics with the singing frog, the daydreaming schoolboy Ralph Phillips, and that cat-loving bulldog Marc Anthony. Animation historian Jerry Beck will lead a panel discussion with distinguished animators to talk about Jones' legacy — and the program concludes with a rare showing of Jones' 1973 television special A Cricket In Times Square!
The show includes the following classic Chuck-Jones directed shorts:
- What's Opera, Doc?
- One Froggy Evening
- Duck Amuck
- From A to ZZZZ
- Bully for Bugs
- Duck Dodgers in the 24th 1/2 Century
- Feed The Kitty
- Rabbit Seasoning
Watch an excerpt from "Rabbit Seasoning"!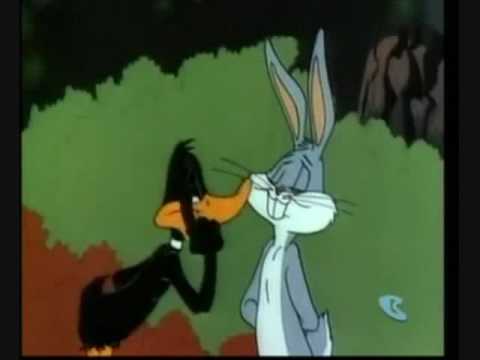 Cinefamily's Most Outrageous Fucks 2013!
The return of a February 14th tradition!
If you've ever been to a showing of Cinefamily's Most Outrageous Kills around Halloween time, then you KNOW that it's a mind-blowing mix night of some of the craziest clips on the subject you've ever seen. Join us for the return of its late-night Valentine's Day sister show, Cinefamily's Most Outrageous Fucks!
Watch Cinefamily's original trailer for "Cinefamily's Most Outrageous Fucks"! NOTE: this trailer is from last year's edition of the show, which lists a different showtime. Our 2013 showtime is 10:00PM.

Casablanca (special Valentine's Day show!)
The greatest romance of all time!
"…no camera before or since ever loved one woman so faithfully and unconditionally." – BBC
Whether you're viewing it for the first time, or you have its infinitely quotable dialogue burned into your gray matter, the experience of Casablanca is potently satisfying on enough different levels (comedic, philosophical, visual, verbal, political, musical, etc.) that it's fair to call it one of the most absolutely romantic movies of all time. Its love triangle between the owner of the Moroccan nightclub for ex-pats (Humphrey Bogart), the dame who disappeared from his life once the Germans invaded Paris (the ravishing Ingrid Bergman) and her new resistance fighter flame (Paul Henreid) is so endearing that, like all great love songs — we must play it again!
Dir. Michael Curtiz, 1942, 35mm, 102 min.
Watch the trailer for "Casablanca"!

Miami Connection (Feb. 9th)
Proof that God exists!
"Awesome & proof that God exists…A Psychotronic Masterpiece!" — Ain't It Cool News
"Hilarious Yet Oddly Touching, Goofy, Yet Totally Sincere, This Is One Of The Most Entertainingly Bizarre Movies I've Ever Seen." — Matt Singer, Screencrush
"Miami Connection has repeatedly destroyed our audience in a more powerful way than anything else in the 15 years of our theater's existence." – Zack Carlson, Alamo Drafthouse
There are films that we save for a rainy day — and, baby, it's fucking pouring! The year is 1987. Motorcycle ninjas tighten their grip on Florida's narcotics trade, viciously annihilating anyone who dares move in on their turf. Multi-national martial arts rock band Dragon Sound have had enough, and embark on a roundhouse wreck-wave of crime-crushing justice in the streets of Orlando, Florida. Directed by 9th-degree black belt philosopher/author/inspirational speaker Grandmaster Y.K. Kim, Miami Connection is pretty much the most entertaining film you will ever see. EVER. Be there.
Dir. Richard Park, 1987, 90 min.
Watch the trailer for "Miami Connection"!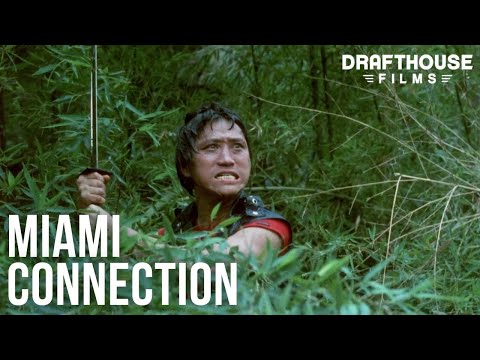 Far Out Angels (World Premiere, feat. performances by Diva, White Magic & Nora Keyes!)
Live performances galore!
By way of the musical alchemy of Diva, White Magic and Nora Keyes (Fancy Space People, The Centimeters), Abigail Briley Bean's brand-new documentary short Far Out Angels will have you fall in love with Los Angeles all over again, and hunt down its secret entrance ways like you were Mulder and Scully. Shot entirely on glistening 16mm, this new work feels like a time capsule from the future's past — and, divided into four acts, the film guides us into the candyland of each musical Angel's world. In celebration of Far Out Angels' world premiere, we'll have special live sets by all three on-screen participants (Diva, White Magic and Nora Keyes). As well, this is a fully interactive event with a live portal installation, a love lottery, angel cake, and other surprises on the patio during the afterparty. If you didn't know, now you know! Blast off with these babes for a late-night date night filled with surprises —
Watch the trailer for "Far Out Angels"!

Dublab presents Light From Los Angeles
Special music videos from the Dublab crew!
In this document of vibrant creativity from our always-inspiring city, Dublab and Digital Harinezumi have invited some of their favorite L.A. musicians to each contribute an original song with an accompanying film shot exclusively on Digital Harinezumi's warm, tiny Super-8mm-for-the-digital-age cameras. These compact devices perfectly capture the magic light of our metropolis — and the resulting music videos are a modular film experience that can be reshuffled for each viewing.  Made under the Creative Commons license, these "Light From Los Angeles" songs and films allow for open, not-for-profit distribution and repurposing of the material — and those inspired by the project can remix the material into amazing, new forms. The evening also features a live set by Teebs!
ARTISTS FEATURED:
Butchy Fuego
Carlos Niño & Miguel Atwood-Ferguson
Dntel
ESP
Farmer Dave Scher
Julia Holter + Nite Jewel
Languis
Lucky Dragons
Onkyovizion
Ras G
Sun Araw
Suzanne Kraft + Brogan Bentley
Sweatson Klank
Teebs + yuk.
The Long Lost
Watch the trailer for "Light From Los Angeles"!