Queer/Art/Film
"Queer/Art/Film has fast become one of the city's most adventurous repertory programs. The overall picture that emerges…is of a queer cinema that is barely, if at all, concerned with the problems of representation and the burdens of identity politics, and that has never been shy to speak its name." — Dennis Lim, New York Times
"Essential" – The New Yorker
Since its inception in 2009, the Queer/Art/Film series has been one of the most exciting, innovative monthly film nights in NYC. Each month, filmmakers Ira Sachs and Adam Baran invite your favorite queer artists from across the creative spectrum to present a title from the wide world of film that's influenced them, and to lead a discussion after the screening. For the new year-round Los Angeles edition of the residency, local Q/A/F curator Lucas Hildebrand brings the fun, and welcomes a diverse slate of West Coast guest programmers. Past Cinefamily Q/A/F guest have included John Cameron Mitchell (filmmaker of Hedwig and the Angry Inch, Shortbus and Rabbit Hole), Lizzie Borden (filmmaker of Born In Flames) and Warhol superstar Holly Woodlawn!
QUEER/ART/FILM: Orlando (presented by Jamie Babbit!)
Tilda Swinton transcends sexes and centuries!
Taking a lavish journey through poetry, politics, romanticism, and selfhood, this tour-de-force adaptation of Virgina Woolf's groundbreaking early 20th-century novel stars Tilda Swinton as a young Renaissance man who transforms into a modern woman. As one of the New Queer Cinema movement's most audacious statements, Sally Potter's Orlando elevated Swinton from Derek Jarman's muse to full-fledged cinematic diva, as she transcends sexes and centuries. This is a film to be savored on the big screen, as it spans from opulent pageantry to cool motorcycle chic, all with a coy wit — such as casting the legendary Quentin Crisp in drag in a cameo as Queen Elizabeth. Jamie Babbit, this month's Q/A/F guest curator, has had a long, rich career directing guilty TV pleasures like Nip/Tuck, Gilmore Girls and Drop Dead Diva, as well as But I'm A Cheerleader, the beloved big-screen sexual conversion farce starring Natasha Lyonne — join her as she discusses Orlando, and the films of Sally Potter, as an influence on her own work!
Dir. Sally Potter, 1992, 35mm, 92 min.
Watch the trailer for "Orlando"!

QUEER/ART/FILM: Foxes (presented by Suzanne Wright)
Decadent adolescent rebellion!
One of the very first in the expansive cycle of '80s teen flicks, Foxes quickly became a cinematic standard bearer for decadent adolescent rebellion, and an awesome touchstone for an entire generation of budding lesbians. As the brash high schooler leading a quartet's worth of glammed-out confidantes, Jodie Foster is incredible in the role of a girl mature beyond her years: she's slept with a couple of boys in 9th grade, but now rebuffs any guy who tries to make it with her 'cause she's too busy looking out for her gal pals. This is a remarkable story of female friendship, broken homes, and messy decisions, all accompanied by Giorgio Moroder-produced tunes on the soundtrack. Director Adrian Lyne (Flashdance, Fatal Attraction) mixes his signature, hazy soft focus with gritty street scenes of pre-gentrification L.A., plus, the Runaways' Cherie Currie and a babyfaced Scott Baio co-star with matching feathered hair. This month's Q/A/F guest artist Suzanne Wright (a founding member of the radical NYC art collective Fierce Pussy) often explores glory holes, portals, and power across her collage, drawings, and paintings. Join us after the film for a discussion of Foxes' influence on her work and on queer culture!
Dir. Adrian Lyne, 1980, 35mm, 106 min.
Watch the trailer for "Foxes"!

QUEER/ART/FILM: John Cassavetes' "Opening Night" (presented by Juliana Snapper)
The outermost limits of live performance!
One of the great films about the creative process, John Cassavetes' Opening Night explores the precarious, outermost limits of live performance — and this month's featured Q/A/F guest is no stranger to such far-flung zones. Juliana Snapper's radical operas, concerts and large theatrical works, staged in unlikely spaces and at great personal risk, jolt her to the edge of her physical being as she employs an array of experimental techniques. With intimate pieces incubated at PS1/MoMA, the Walker Art Center and Machine Project, and with upcoming sound-video commissions like her new work for the San Diego Science Museum's IMAX Theater, Juliana's become one of avant-garde culture's pre-eminent vocalists.
For August, Juliana's picked Cassavetes' 1977 classic starring Gena Rowlands as an aging actress who, after battling her script, ultimately loses herself while finding her character. Cassavetes himself, Ben Gazzara, and old Hollywood stalwarts John Blondell and Paul Stewart all co-star as Rowlands' collaborators trying to both inspire her, and desperately reign her in. From the very first scene, Cassavetes peppers the narrative with electric turn-on-a-dime ambiguity; with whole swathes of the action taking place "onstage" in front of a real audience watching the performances of the film's cast in-character, the permeable membrane between "stage" and "reality" is so tangible it hurts.
Dir. John Cassavetes, 1977, 35mm, 144 min.
Watch the trailer for "Opening Night"!

QUEER/ART/FILM: Them! (presented by Gronk)
An insectoid image of apocalypse then!
A gleeful insectoid image of apocalypse then, the B-Movie-with-a-message Them! stands as one of the foundational films from the 1950s cycle of monster movies which radiated anxiety about the effects of atomic weapons. But such films about freaks and perversions of nature have long also had a queer resonance, especially for audiences to whom the Eisenhower-era humans onscreen are the ones who really seem like alien drones. Them!'s giant ant creature effects now look charmingly like craft projects gone awry, as they prey upon residents of the New Mexico desert, and then nest in the catacombs beneath the L.A. River — what has this mad science wrought!? Nothing less than inspiration for SoCal art legend Gronk, a founding member of the seminal collective ASCO (focus of a Pacific Standard Time LACMA exhibition) and a visionary muralist, painter, and opera designer in his own right — who joins us to present Them!, and to discuss the impact classic monster movies have had on his own body of work.
Dir. Gordon Douglas, 1954, 35mm, 94 min.
Watch the trailer for "Them"!

QUEER/ART/FILM: Let Me Die A Woman (presented by Zackary Drucker!)
Artist Zackary Drucker in person!
Last year's visiting Queer/Art/Film residency — in which queer artists from across the creative spectrum present a title from the wide world of film that's inspired them — was so much fun that we're bringing it back from NYC to the Cinefamily full-time, with the help of new Q/A/F curator Lucas Hildebrand! For the 2013 re-launch, the evening's guest programmer is the extraordinary young performance/video artist Zackary Drucker. Conceiving, discovering, and manifesting herself as "a woman in the wrong world," Drucker's work is rooted in cultivating and investigating underrecognized aspects of transgender history. Her perfectly chosen screening: sexploitation filmmaker Doris Wishman's infamous foray into documentary, Let Me Die A Woman. As it explores the lives of '70s transsexuals, the film astoundingly combines comically awkward group therapy scenes, staged softcore sex, graphic surgery footage of an actual vaginoplasty, and an impossibly weird simulated self-castration (what better way to mark Father's Day?) At once salacious and a rare empathetic representation of transgender experience, Let Me Die A Woman stands as both an outrageous cult classic and a complicated, yet vital text.
Dir. Doris Wishman, 1977, 35mm, 79 min.
Watch the trailer for "Let Me Die A Woman"!

QUEER/ART/FILM: She (1935 version, hosted by Holly Woodlawn!)
Warhol superstar Holly Woodlawn in person!
We've welcomed many amazing guests to Queer/Art/Film, but our guest for June is by far the most legendary we've ever had present a film: Holly Woodlawn! The iconic star of Paul Morrissey's Trash, subject of Lou Reed's classic anthem "Walk on The Wild Side", author and cabaret performer joins us for a very special presentation of her favorite film: the 1935 version of She, a high-camp fantasy spectacle from Merian C. Cooper (producer of King Kong.) Dashing explorer Randolph Scott goes looking for the Fountain of Life and winds up in a magic Art-Deco kingdom ruled by the beautiful She-Who-Must-Be-Obeyed aka Queen Hash-A-Mo-Tep (both of which would make KILLER drag queen names.) "She" bathes in fire to stay young and gorgeous, and becomes convinced that Scott needs to join her for a flame-filled dip! The character of "She" inspired Walt Disney's Evil Queen in Snow White and the Seven Dwarfs — and, of course, Holly Woodlawn! Join Ms. Woodlawn and find out more about why she adores She, plus drinks and revelry after the show!
Dir. Lansing C. Holden & Irving Pichel, 1935, 35mm, 102 min.
Watch the trailer for "She"!

Watch a riotous early '70s interview with Holly Woodlawn!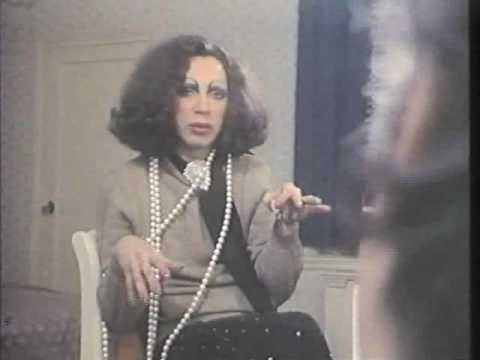 QUEER/ART/FILM: Lizzie Borden presents "Sunday Bloody Sunday"
Lizzie Borden in person!
"I did it for England." – Peter Finch, on mainstream cinema's first-ever on-screen homosexual kiss in Sunday Bloody Sunday
Just two short years after his groundbreaking, Oscar-winning Midnight Cowboy, openly gay director John Schlesinger made this fearless queer classic about a doctor (Network's Peter Finch) and his divorced female friend (Ken Russell favorite Glenda Jackson) who both share the same partner — a flighty artist (Murray Head) who flits back and forth from one bed to the other. Thanks in no small part to the delicate subtleties of Finch's heartrending performance, the film stands as possibly Schlesinger's greatest work — and remains a favorite of fellow film director Lizzie Borden, whose feminist underground sci-fi epic Born In Flames similarly stirred up the queer consciousness just over a decade later, in 1983. We'll talk to Lizzie both before and after the screening about how this (and other films) influenced her work — and then it's time for some beers and fun on the Cinefamily backyard patio. Don't miss our second exciting Queer/Art/Film L.A. screening; what better way to kick off Memorial Day Weekend?
Dir. John Schlesinger, 1971, 35mm, 110 min.
Watch the trailer for "Sunday Bloody Sunday"!

Watch excerpts from "Sunday Bloody Sunday"!

QUEER/ART/FILM: John Cameron Mitchell presents "Zero de Conduite" & "The Girl Most Likely To..."!
John Cameron Mitchell in person!
Since its inception in 2009, the Queer/Art/Film series has been called one of the most exciting, innovative monthly film nights in NYC — and Cinefamily is thrilled to have Q/A/F co-curator Adam Baran in town for an extended stay, to host an L.A.-centric edition of the series. It all kicks off March 22nd, with award-winning director John Cameron Mitchell (Hedwig and the Angry Inch, Rabbit Hole, Shortbus) as the inaugural guest. John will present a very special double feature on the subject of schoolchildren who get revenge on their tormentors! First up is Jean Vigo's 1933 classic Zéro de Conduite (the prototypical bad-kids-fight-back film that influenced both Truffaut's The 400 Blows and Lindsey Anderson's If…) — and, after the break, it's silly, screwy and singular 1973 TV "movie-of-the-week" The Girl Most Likely To…, from the mind of Joan Rivers! A film about a girl who has plastic surgery (written by a woman who years later became the industry's biggest client), it stars Stockard Channing as an ugly duckling who, after reconstructive face work, becomes a ravishing beauty exacting murderous revenge on her college tormentors. Trust us, it's an awesome and unique double feature you can't miss!
Zéro de Conduite Dir. Jean Vigo, 1933, 35mm, 41 min.
The Girl Most Likely To… Dir. Lee Phillips, 1973, 35mm, 73 min.
Watch an excerpt from "Zero de Conduite"!