Levi's Presents Wild Goodness
Wild Goodness is an ongoing multimedia project spearheaded by acclaimed music supervisor Randall Poster, along with creative director Gelya Robb, and film director/"Art In The Streets" co-curator Aaron Rose. Join Wild Goodness in three nights of food-themed film, with each night introduced by special guest chefs or farmers — plus a reception to follow on Cinefamily's backyard Spanish patio, with food themed to the curated film!
Watch the trailer for Levi's Presents Wild Goodness!
The Grapes of Wrath (introduced by Tara Kolla of Silver Lake Farms!)
Tara Kolla of Silverlake Farms in person!
Following a family of farmers who, like many others in the 1930s, were forced to flee their lifelong lands in search of a better life in California, John Ford's The Grapes of Wrath is a Depression-era story that's as American as apple pie or jet skis. But like Mount Rushmore or the Statue of Liberty, Ford's monument to the indefatigable spirit of the American underclass needs to be seen in person to have its true enormity felt. Released a mere year after the novel it so masterfully adapts (and which won John Steinbeck the Nobel Prize), the film — for all its craftsmanship — has a veiled urgency in every frame, mirroring the hunger and anger its proud protagonists hide behind their sunken cheeks and restless eyes (Henry Fonda, especially). The injustices they face are tearjerkers, but Ford appeals to our smarts as well as our hearts, meticulously detailing a system of economic exploitation that's as timely as it is terrifying. Tara Kolla of Silverlake Farms will be here in person to introduce the screening!
Dir. John Ford, 1940, 35mm, 129 min.
Watch the trailer for "The Grapes of Wrath"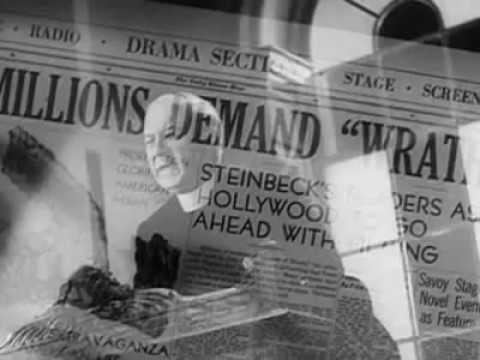 Italianamerican (introduced by Jon Shook and Vinny Dotolo of Animal Restaurant!)
Martin Scorsese's classic '70s doc on his Italian heritage!
Martin Scorsese clearly loves and adores his parents; his mother, Catherine, appeared in several of his films, almost always as an Italian mother! But perhaps Catherine's greatest role was as hersef, in her son's touching, loving 1974 documentary portrait Italianamerican. "Made after Alice Doesn't Live Here Anymore, [the film] explores [Scorsese's] heritage through his parents' homespun stories. The setting is casual, right in his parent's apartment on Elizabeth Street in Little Italy…Food in Italian-American families is important and there is plenty of talk, especially from Catherine, on the making of her pasta sauce and meatballs which Marty allows her to go into great detail about, the camera even following her into the small kitchen as she prepares, and gives instructions, on making of a meal. Like most families, they are recipes handed down from generation to generation. In case you miss an ingredient by the way, the recipe is included in the end credits. And what would an Italian family dinner be without wine? We listen to both parents talk about how their families made their own homemade wine with a discussion on whom, when, and if feet were used to squeeze the grapes…Though the film is basically a question and answer, out of it emerges a family's history filled with humor, and love; a family scrapbook." (John Greco, Twenty Four Frames) The evening's show will be introduced by Jon Shook and Vinny Dotolo of Animal Restaurant — with a themed reception to follow on Cinefamily's backyard patio!
Cesar
A true French classic, best seen on the big screen!
"In the early sound era, Hollywood made some amazing movies, but few had the sophistication of '30s playwrights like Eugene O'Neill, Clifford Odets, or Thornton Wilder, let alone the likes of Anton Chekhov or Henrik Ibsen. But the French had Marcel Pagnol, a popular playwright who realized as early as 1931 that cinema could record dramas of complexity and wit…Pagnol's 'Fanny' Trilogy established his reputation worldwide and practically codified French cinema's 'tradition of quality' — in which performance and theme are valued over visual flash — which Pagnol-hating New Wavers would do their utmost to shred decades later. The films themselves are talky and comic, full of worldly, rounded-off characters and flatly naturalist settings, and they're as French as brie and Jacques Tati." (Noel Murray, A.V. Club) While it is the third film in the romantic "Fanny" trilogy, César stands on its own as a sumptuous portrait of seaside life, populated by warm characters made even warmer by their decades' long association with each other. As the titular bar owner plays cards and trades stories with his cronies, he must also take great pains to reunite his long-lost son with the son's baby mama. A true classic, best seen on the big screen! The evening's screening will be introduced by Chef Suzanne Goin (of Lucques and A.O.C.!), with a themed reception to follow on the Cinefamily backyard Spanish patio!