Heavy Midnites
View Past Events
A carefully curated collection of pizza party classics, fist explosions, international adrenaline-pumpers, '80s funbombs, white-hot laugh factories, total freakazoids and more. But this is no MST3K chucklethon; this is a dedicated study of all that is, and can be, AWESOME. Nothing makes us happier than: 1) B-list pics delivering A-list thrills; and 2) the glorious time when the weathered faces of Warren Oates and Charles Bronson were marquee idols. Kick off your weekend in style with your newest cinematic obsession! Follow Heavy Midnites on FB and Twitter!
HEAVY MIDNITES: Heavy Metal
$12/free for members
NOTE: this screening will start at 12:30am.We're taking you beyond the universe to a future you've never seen before, an adults-only midnight movie rite of passage based on the wild ideas and even wilder visuals of the fantastical magazine of the same name. So strap in for an animated anthology that beautifully expands the boundaries of science fiction and fantasy while gratuitously pushing the limits of sex, violence and rock 'n roll. It's awesome! From the dystopian NYC of 2031 to the outer limits of space, following warrior maidens, hulking barbarians, glowing orbs and more, Heavy Metal is stoned, funky, funny and far out. There's a raging soundtrack featuring Black Sabbath, Blue Öyster Cult, Cheap Trick and other rock gods, pitch-perfect voice acting from SCTV faves John Candy and Eugene Levy, plus tons of cartoon boobs, graphic gore, drugs and profanity. We guarantee Heavy Metal's louder and nastier than ever; it's gonna pop your eye sockets, blow your ear drums and boil your mind!
Dir. Gerald Potterton, 1981, 35mm, 86 min.
Watch Cinefamily's original trailer for "Heavy Metal"!

HEAVY MIDNITES' "THE WITCHING HOUR": The Witches
HEAVY MIDNITES' "THE WITCHING HOUR": Troll
HEAVY MIDNITES' "THE WITCHING HOUR": Teen Witch
$12/free for members
Being a teen girl is hard. You've got to deal with boys, boobs, bratty brothers and Brad, the hunky football star who doesn't even know you're alive. Uggghhh! But when you find out on your 16th birthday that you're descended from Salem witches, life is, like, totally going to get complicated. Sure, Teen Witch is a sweet-natured coming-of-age fairy tale — but it's also a top-tier rager: a mind-blowing non-stop fun machine dealing with the tough topics of today (rap battles, magical ability), a cotton-candy comedy packed with teased-out neon fashion, and a you'll-never-get-it-out-of-your-head soundtrack of original songs (seriously, you're gonna have to dig deep to Top That.) Plus, the cast's got supernatural appeal: the sexy duo of Robyn Lively and Dan Gauthier, Near Dark's Joshua John Miller and Poltergeist's Zelda Rubinstein, just to get started. Grab your wand and head to Cinefamily to fall under the Teen Witch spell all over again!
Dir. Dorian Walker, 1989, 35mm, 90 min.
Watch the trailer for "Teen Witch"!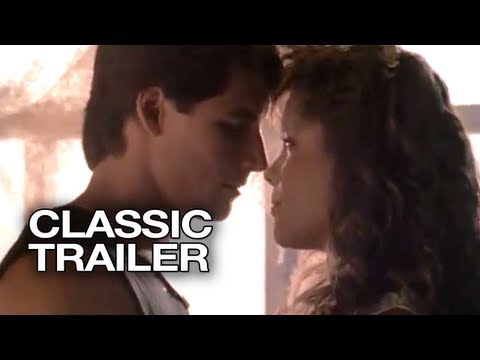 Watch the "Top That" rap from "Teen Witch"!