Heavy Midnites
View Past Events
A carefully curated collection of pizza party classics, fist explosions, international adrenaline-pumpers, '80s funbombs, white-hot laugh factories, total freakazoids and more. But this is no MST3K chucklethon; this is a dedicated study of all that is, and can be, AWESOME. Nothing makes us happier than: 1) B-list pics delivering A-list thrills; and 2) the glorious time when the weathered faces of Warren Oates and Charles Bronson were marquee idols. Kick off your weekend in style with your newest cinematic obsession! Follow Heavy Midnites on FB and Twitter!
HEAVY MIDNITES: Short Circuit 2 (co-hosted by Anders Holm of "Workaholics"!)
$12/free for members
"A lot of it really made me laugh out loud. I though it was very satirical, very topical. And then of course you get down to the crux, which is "Do you care when the creature's life is in jeopardy?", and I DID. When they're hammering that thing, the bad guys are killing that little robot, I felt bad — and that means the movie works. I'm really surprised by that little Short Circuit 2. That was cute." — Gene Siskel
Anders Holm (comedian and star of Comedy Central's Workaholics) stops by the Cinefamily to discuss superior sequels, and the motorized madness of an old-school cable-TV staple! Picking up where its origin film left off but focusing on what worked best, Short Circuit 2 improves on the first in nearly every way, upping the ante in antics and good old fashion robotic FUN. This time Johnny Five's taking the big city by storm, searching for urban input while crossing wires with punk thugs, jewel thieves and greedy bankers who see his naiveté as their high-tech ticket to easy street. Add in comedy great Michael McKean (This Is Spinal Tap), Modern Girls' Cynthia Gibb, a returning Fisher Stevens (still doing the Indian thing, but now with a citizenship subplot) and miles of mechanized mayhem for an outrageously alive night at the movies.
Dir. Kenneth Johnson, 1988, 35mm, 110 min.
Watch an excerpt from "Short Circuit 2″!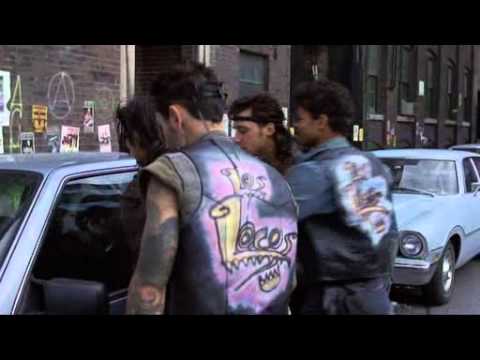 HEAVY MIDNITES: Body Chemistry
$12/free for members
God bless Roger Corman; there was never a good idea that he couldn't imitate and streamline. With the Hollywood heat of Fatal Attraction burning up the box office in the late '80s, Corman's neo-noir take on steamy sex and kinky thrills resulted in Body Chemistry: a late night Skinemax scorcher, a slick softcore classic to catch on cable when your parents go to sleep, and a rollicking good time. A hulking, often shirtless Marc "The Beastmaster" Singer gets knotty (bondage!) as a doctor researching sexual response who crosses professional barriers when he entangles with a titillating, completely bonkers colleague. But when he tries to break off the tumultuous affair, he ignites a psychological war that will arouse his desires and engulf his family. It's not a surprise that Body Chemistry was Corman's most successful theatrical release in more than a decade, for it's rife with a long list of crackly, outré setpieces, and soapy melodrama for days. A big 'ol ball of fun that spawned three sequels and lined your old-time local video store with countless imitators, Body Chemistry helped to solidify the blistering genre that boiled billions of hormones in the Clinton Age.
Dir. Kristine Peterson, 1990, 35mm, 84 min.
Watch Cinefamily's very NSFW original trailer for "Body Chemistry"!

HEAVY MIDNITES: My Own Private Idaho (presented by Xiu Xiu)
$12/free for members
Xiu Xiu are a longtime favorite band around here, a unique blend of post-punk heartache and experimental ideals — so we're excited that frontman Jamie Stewart is stopping by in the midst of a national tour, to present a film that's deeply influenced his life and music. Gus Van Sant's poetic 1991 road movie is truly affecting, traveling a sad, lonely and visually stunning path that beautifully evokes a state of drifting need and passionate longing. River Phoenix and Keanu Reeves star as young hustlers: Mike, a sensitive narcoleptic dreaming of the mother that abandoned him, and Scott, the wayward son of a rich family and the object of Mike's desire. Navigating a volatile world of junkies, thieves and johns, they take a dreamy quest from the grungy streets to the open highways in search of home. But, don't fear, it's not a total downer; Udo Kier even sings and dances with a lamp. A pioneering American work filled with stylized flair, surreal imagery, Shakespeare references and two seriously sexy leads exploring their abilities, My Own Private Idaho helped take New Queer Cinema mainstream, cemented Phoenix's legacy and still leaves an impact on everyone that watches it.
Dir. Gus Van Sant, 1991, 35mm, 104 min.
Watch the trailer for "My Own Private Idaho"!