Heavy Midnites
View Past Events
A carefully curated collection of pizza party classics, fist explosions, international adrenaline-pumpers, '80s funbombs, white-hot laugh factories, total freakazoids and more. But this is no MST3K chucklethon; this is a dedicated study of all that is, and can be, AWESOME. Nothing makes us happier than: 1) B-list pics delivering A-list thrills; and 2) the glorious time when the weathered faces of Warren Oates and Charles Bronson were marquee idols. Kick off your weekend in style with your newest cinematic obsession! Follow Heavy Midnites on FB and Twitter!
HEAVY MIDNITES: My Own Private Idaho (presented by Xiu Xiu)
$12/free for members
Xiu Xiu are a longtime favorite band around here, a unique blend of post-punk heartache and experimental ideals — so we're excited that frontman Jamie Stewart is stopping by in the midst of a national tour, to present a film that's deeply influenced his life and music. Gus Van Sant's poetic 1991 road movie is truly affecting, traveling a sad, lonely and visually stunning path that beautifully evokes a state of drifting need and passionate longing. River Phoenix and Keanu Reeves star as young hustlers: Mike, a sensitive narcoleptic dreaming of the mother that abandoned him, and Scott, the wayward son of a rich family and the object of Mike's desire. Navigating a volatile world of junkies, thieves and johns, they take a dreamy quest from the grungy streets to the open highways in search of home. But, don't fear, it's not a total downer; Udo Kier even sings and dances with a lamp. A pioneering American work filled with stylized flair, surreal imagery, Shakespeare references and two seriously sexy leads exploring their abilities, My Own Private Idaho helped take New Queer Cinema mainstream, cemented Phoenix's legacy and still leaves an impact on everyone that watches it.
Dir. Gus Van Sant, 1991, 35mm, 104 min.
Watch the trailer for "My Own Private Idaho"!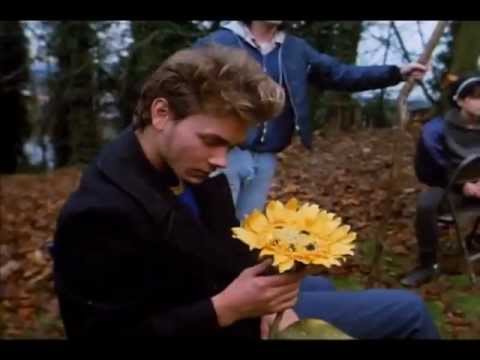 HEAVY MIDNITES: Flash Gordon
$12/free for members
Prepare to save the universe with the King of the Impossible! Alex Raymond's timeless comic strip blasts to life in the sci-fi adventure of the '80s: a candy-colored cult confection of out-of-this-world SFX, wild costumes and interstellar design — along with legendary rock heroes Queen providing some of the greatest tunes ever committed to celluloid. When our intrepid hero is unwittingly rocketed off Earth towards planet Mongo, he must face cruel ruler Ming the Merciless (an astounding Max Von Sydow, in a role he was born to play), fight a prince, ride a rocket cycle and hang out with bearded Hawkmen to get the girl, redeem himself and rescue mankind. Packed with propulsive energy and spectacular thrills like the best cliffhanger serials, Flash Gordon's also intentionally campy to the max, with a script by Lorenzo Semple, Jr. (a driving force behind the '60s TV Batman) and produced by Dino De Laurentiis as an unforgettable live action comic book filled with colorful characters, memorable dialogue and non-stop entertainment. Plus, a pre-James Bond Timothy Dalton, Fiddler on the Roof's Topol, Italian beauty Ornella Muti and Playgirl centerfold Sam Jones as Flash!
Dir. Mike Hodges, 1980, 35mm, 111 min.
Watch the trailer for "Flash Gordon"!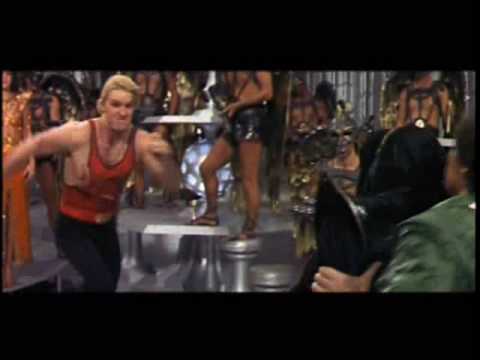 HEAVY MIDNITES: Robot Jox (25th Anniversary, Stuart Gordon in person!)
$12/free for members
Schedule permitting, director Stuart Gordon in person! Break out the oil cans and oversized wrenches; we've got the film that proves once and for all there's nothing cooler than giant robots beating the crap out of each other. So feast your eyes on the ultimate killing machine: part man, part metal and all awesome. In this brutal post-apocalypse, patriotic heroes must pilot multi-storied, mechanized death-bots to settle disputes as electric gladiators. The most expensive movie ever birthed by Charles Band's Empire Pictures (the house that gave us Ghoulies, Trancers and other VHS staples), Robot Jox is awash with ambitious stop-motion animation and in-camera effects, impressive miniatures and practical models, a great orchestral score, plus the stylish attitude and directorial flourishes of filmmaker Stuart Gordon (Re-Animator, From Beyond, Stuck). It's a rollicking piece of futuristic entertainment, scripted by famed genre author Joe Haldeman as a combination of Saturday morning cartoons and serious science fiction. A perfect late night flick filled with Cold War allusions, Greek mythology and even a gigantic robot chainsaw penis!
Dir. Stuart Gordon, 1989, 35mm, 85 min.
Watch the trailer for "Robot Jox"!