Heavy Midnites
View Past Events
A carefully curated collection of pizza party classics, fist explosions, international adrenaline-pumpers, '80s funbombs, white-hot laugh factories, total freakazoids and more. But this is no MST3K chucklethon; this is a dedicated study of all that is, and can be, AWESOME. Nothing makes us happier than: 1) B-list pics delivering A-list thrills; and 2) the glorious time when the weathered faces of Warren Oates and Charles Bronson were marquee idols. Kick off your weekend in style with your newest cinematic obsession! Follow Heavy Midnites on FB and Twitter!
HEAVY MIDNITES: Flash Gordon
$12/free for members
Prepare to save the universe with the King of the Impossible! Alex Raymond's timeless comic strip blasts to life in the sci-fi adventure of the '80s: a candy-colored cult confection of out-of-this-world SFX, wild costumes and interstellar design — along with legendary rock heroes Queen providing some of the greatest tunes ever committed to celluloid. When our intrepid hero is unwittingly rocketed off Earth towards planet Mongo, he must face cruel ruler Ming the Merciless (an astounding Max Von Sydow, in a role he was born to play), fight a prince, ride a rocket cycle and hang out with bearded Hawkmen to get the girl, redeem himself and rescue mankind. Packed with propulsive energy and spectacular thrills like the best cliffhanger serials, Flash Gordon's also intentionally campy to the max, with a script by Lorenzo Semple, Jr. (a driving force behind the '60s TV Batman) and produced by Dino De Laurentiis as an unforgettable live action comic book filled with colorful characters, memorable dialogue and non-stop entertainment. Plus, a pre-James Bond Timothy Dalton, Fiddler on the Roof's Topol, Italian beauty Ornella Muti and Playgirl centerfold Sam Jones as Flash!
Dir. Mike Hodges, 1980, 35mm, 111 min.
Watch the trailer for "Flash Gordon"!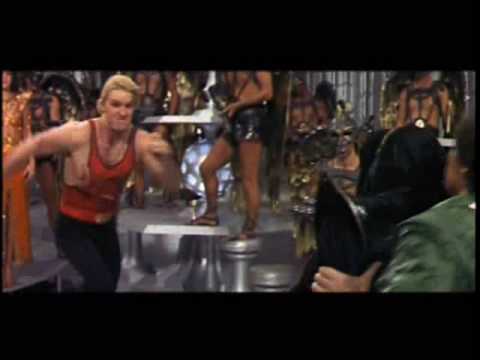 HEAVY MIDNITES: Robot Jox (25th Anniversary, Stuart Gordon in person!)
$12/free for members
Schedule permitting, director Stuart Gordon in person! Break out the oil cans and oversized wrenches; we've got the film that proves once and for all there's nothing cooler than giant robots beating the crap out of each other. So feast your eyes on the ultimate killing machine: part man, part metal and all awesome. In this brutal post-apocalypse, patriotic heroes must pilot multi-storied, mechanized death-bots to settle disputes as electric gladiators. The most expensive movie ever birthed by Charles Band's Empire Pictures (the house that gave us Ghoulies, Trancers and other VHS staples), Robot Jox is awash with ambitious stop-motion animation and in-camera effects, impressive miniatures and practical models, a great orchestral score, plus the stylish attitude and directorial flourishes of filmmaker Stuart Gordon (Re-Animator, From Beyond, Stuck). It's a rollicking piece of futuristic entertainment, scripted by famed genre author Joe Haldeman as a combination of Saturday morning cartoons and serious science fiction. A perfect late night flick filled with Cold War allusions, Greek mythology and even a gigantic robot chainsaw penis!
Dir. Stuart Gordon, 1989, 35mm, 85 min.
Watch the trailer for "Robot Jox"!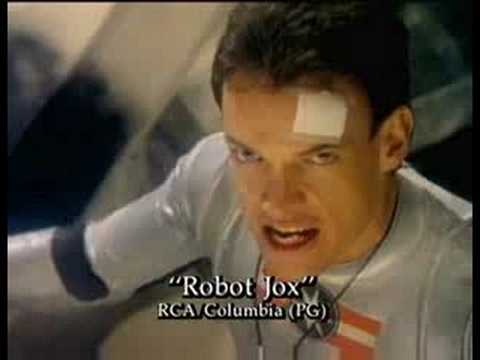 HEAVY MIDNITES: The Baby
$12/free for members
Are you ready for one of the most bizarre film freakouts birthed by Seventies Hollywood? 'Cuz we've got a real mother of a jaw-dropping flick that'll stun even the most jaded midnight maniacs. Get this: Anjanette Comer (The Loved One) stars as an idealistic L.A. County social worker investigating the case of Mrs. Wadsworth (Fifties starlet Ruth Roman, Strangers On A Train), her two buxom daughters, and son "Baby" — a mentally-disabled man who sleeps in a crib, eats in a high-chair, crawls, bawls and wears diapers. But what secrets of unnatural attachment –- and sexual obsession –- are all of these women hiding? The script by Abe Polsky goes out of its way to make this as insane as possible, tossing in incest, cattle prod abuse, drug-fueled parties and even an intense game of darts. It's hard to imagine a mainstream director tackling such a wild storyline, but it's real (helmed by Ted Post, Beneath The Planet of the Apes, Hang 'Em High) and we've got an honest-to-goodness 35mm print with all the suburban violence, funky fashions and "sick love" you could ever want.
Dir. Ted Post, 1973, 35mm, 84 min.
Watch the trailer for "The Baby"!