Fandor Indie Mixers
Presented by Fandor
It's the start of our brand-new independent film monthly event: the Cinefamily Independent Mixer. We're teaming with our friends at Fandor (the fantastically curated VOD streaming site) to bring to you a monthly dose of the raddest films from the festival circuit you might've missed in their theatrical windows, or sneak peaks at upcoming movies soon to become the talk of the blogosphere.
Fandor is the on-demand film source for people who love movies. Subscribing to Fandor gives you unlimited access to thousands of independent films — right from your desktop, Roku, or mobile device. Plus, 20% of your membership will go directly to Cinefamily, in continuing support of your local home for extraordinary and unconventional films.

MEMBERS-ONLY / FANDOR INDIE MIXER : Boyhood (plus Father's Day brunch, Rick Linklater & cast in person!)
Co-presented by HOTEL DE VILLE EYEWEAR
11:00am – noon – Father's Day brunch
noon-3:00pm – screening of Boyhood
"Lovingly assembled and acted with such grace and ease that it scarcely looks like acting at all. Midway through the film, I found myself wondering whether I'd ever seen anything remotely resembling it before." — Xan Brooks, The Guardian
"The cumulative impact of seeing something resembling a life unfold over a mere two hours and forty minutes is overwhelming. 'Boyhood' is Linklater's third masterpiece in the past decade, and it should only affect anyone who's ever been someone else's sibling, child, parent, lover or friend." — William Goss, Film.com
Join us at 11am for a pre-screening Father's Day brunch — and stick around for a Q&A with Rick Linklater, plus cast members Ethan Hawke, Patricia Arquette, Ellar Coltrane and Lorelei Linklater! At Sundance 2014, Richard Linklater (Before Sunrise, Waking Life, Slacker, School of Rock) unveiled a total revelation, one filmed with the same cast in secrecy over twelve years, a tiny linear chunk at a time. No mere gimmick — in fact, no gimmick at all — the result is one of the most powerful films of Linklater's career, and a transcendent piece of history to be remembered alongside the 7 Up doc series, and Truffaut's "Antoine Doinel" cycle. We watch newcomer Ellar Coltrane (7 years old at the start, and a college freshman at the end) grow up in real time before our eyes, as Linklater's tableaux capture snapshots of adolescence from road trips and family dinners to birthdays and graduations, weddings and divorces, and all the quiet moments of life in-between. Ethan Hawke and Patricia Arquette play the parents, equally captivating in their own story arcs. Innovative on a formalist level and deeply satisfying on an emotional level, this is simply a fantastically unique theatrical experience.
Dir. Richard Linklater, 2014, DCP, 164 min.
NOTE: To help us track attendance, you must pre-register for "first-come, first-serve" admission. Your registration does not guarantee you a seat.
If this is the kind of event you want more of in your life, sign up for a CINEFAMILY MEMBERSHIP!
Watch the trailer for "Boyhood"!

FANDOR INDIE MIXER: Herzog's "Nosferatu the Vampyre" (Werner Herzog in person, opening night party!)
Presented by FANDOR.
WERNER HERZOG IN PERSON — WOW!!!! As mysterious, beautiful and otherworldly as she was in Zulawski's Possession, Isabelle Adjani stars with Klaus Kinski as the galvanizing pair in this masterful re-invention of Murnau's 1922 silent. It's hard to remember a time when Werner Herzog didn't belong to the whole world, but rather was merely an unofficial spearhead of the "New German Cinema", along with Wenders and Fassbinder. That time officially ended in 1979, as the sweepingly beautiful, archly expressionistic Nosferatu The Vampyre became Herzog's first film Hollywood backing and an international cast. Here, he re-invents many of Murnau's signature moments, but with an emphasis on the stretching of time to a bizarre, hallucinatory stroll, as if we are inside Dracula's syrupy, centuries-old field of vision. Amongst this heightened setting, Kinski is pitch-perfect as the rat-like, pale demon — and Adjani is electric, adding an extra hypnotic/iconic dimension to an already mythic re-telling of the Bram Stoker tale. Come breathe in a brand-new 35mm print of the film's German-language version (produced simultaneously with the English version, and unseen theatrically on these shores!)
Dir. Werner Herzog, 1979, 35mm, 107 min.
CLICK HERE TO BROWSE FANDOR'S WERNER HERZOG VIEWING LIBRARY!
Watch Cinefamily's original trailer for "FANDOR INDIE MIXER: Nosferatu the Vampyre"!

FANDOR INDIE MIXER/MEMBERS-ONLY: Joe (sneak preview, David Gordon Green in person!)
CO-PRESENTED BY FANDOR
"Cage bristles with unpredictable energy in an aces performance." — Variety
Schedule permitting, David Gordon Green in person — plus, Bennett Kogon (FYF Fest, KXLU) will be here to spin tunes before the show! Hot on the heels of the wonderfully funny and touching Prince Avalanche, one of our favorite filmmakers working today — David Gordon Green — gives us another, darker dose of smalltown friendship, violence and redemption in the form of Joe. The film brings Nic Cage back to his indie roots in the title role as the hard-living, hot-tempered, ex-con Joe Ransom, who's just trying to dodge his instincts for trouble while evolving into a tender-hearted protector for a hard-luck kid (Tye Sheridan, The Tree of Life) hounded by a reckless alcoholic father. "A thoughtful portrait of Southern despair, efficiently culminating in a suspenseful arrangement of images that realize the full range of strengths from the creative team involved: Green's longtime cinematographer Tim Orr and composer David Wingo complicate the movie's dense atmosphere to give it both poetic and lived-in feel. If "Joe" marks a new beginning for some of its characters, the same description applies to its director and star." (Hollywood Reporter)
Dir. David Gordon Green, 2014, DCP, 117 min.
NOTE: To help us track attendance, you must pre-register for "first-come, first-serve" admission. Your registration does not guarantee you a seat.
If this is the kind of event you want more of in your life, sign up for a CINEFAMILY MEMBERSHIP!
FANDOR INDIE MIXER: Best of Sundance Shorts 2013 (filmmakers in person!)
CO-PRESENTED BY FANDOR
Across each year, the blogosphere and the trade papers are constantly alighted by news of its feature film highlights from the festival circuit, but as the yearly circuit winds to a close, it can still be hard to track the best-of-the-best in short films from around the globe — even the prize-winning ones that get the highest recognition. Thankfully, our friends at the Sundance Institute have put together a program of their favorites from last year's fest lineup to share with you! This rollercoaster mix of drama and comedy collects eight of the funnest from the 2013 edition of Sundance. Vibrant storytelling highlights the group (which includes fiction, documentary and animation), with five award-winners rounding out the list, including the short film version of Whiplash, which filmmaker Damien Chazelle would later adapt into a Sundance 2014 feature film highlight starring Miles Teller and J.K. Simmons. Schedule permitting, filmmakers Damien Chazelle, Kahlil Davis and Michelle Morgan will be here for a Q&A after the program.
THE DATE (Short Film Jury Award: International Fiction)
Tino's manhood is put to the test in front of two women when he has to host a date for Diablo, the family's stud cat.
(Jenni Toivoniemi, Finland, 8 min)
WHIPLASH (Short Film Jury Award: US Fiction)
An aspiring drummer enters an elite conservatory's top jazz orchestra.
(Damien Chazelle, USA, 17 min)
SKINNINGROVE (Short Film Jury Award: Non-Fiction)
Photographer Chris Killip shares unpublished images chronicling time spent among the fiercely independent residents of a remote English fishing village.
(Michael Almereyda, USA, 15 min)
UNTIL THE QUIET COMES (Short Film Special Jury Award)
Shot in the Nickerson Gardens housing projects in Watts, Los Angeles, this film deals with themes of violence, camaraderie and spirituality through the lens of magical realism.
(Kahlil Joseph, USA, 4 min)
IRISH FOLK FURNITURE (Short Film Jury Award: Animation)
In Ireland, old hand-painted furniture is often associated with hard times, with poverty, and with a time many would rather forget. In this animated documentary, 16 pieces of traditional folk furniture are repaired and returned home.
(Tony Donoghue, Ireland, 8 min)
THE EVENT
Love and a severed foot at the end of the world.
(Julia Pott, USA/United Kingdom, 4 min)
JONAH
When two young men photograph a gigantic fish leaping from the sea, their small town becomes a tourist attraction in this story about the old and the new.
(Kibwe Tavares, Tanzania/United Kingdom, 20 min)
K.I.T.
A guilt-ridden, but well-intentioned, yuppie goes to great lengths to prove she is a decent person.
(Michelle Morgan, USA, 15 min)
Watch the trailer for "Best of Sundance Shorts 2013″!

CINEFAMILY INDEPENDENT MIXER: Towheads (filmmaker/star Shannon Plumb in person!)
A cross between Buster Keaton and Cindy Sherman!
Co-presented by FANDOR
Filmmaker/star Shannon Plumb in person — plus, one lucky audience member will win a Roku HD, courtesy of Fandor! Friends and film lovers — we've started a new series here at Cinefamily, in which we invite a young, upcoming filmmaker to join us and share their newest work. It's a chance for you, the audience, to see some fresh new talent, get the latest on what's going on in the indie film world — and to give the young turks a big Cinefamily-style welcome. That means not just a screening/Q&A, but a party on our backyard Spanish patio afterwards, with vittles and libations, of course! This month, we bring you Towheads, the surprising and playful first feature-length work by talented NYC gallery artist/experimental filmmaker Shannon Plumb. Somewhere between the works of Buster Keaton and Cindy Sherman, Plumb's new film focuses on the misadventures of a bored housewife, whose desire for exploration leads her to adopt a series of alternate personas — ones harsh and humorous, strange and affecting. This is a special new movie, and we completely understand how it got selected for the Sundance Artist Selects program, so check it out with us!
Dir. Shannon Plumb, 2013, digital presentation, 85 min.
Watch the trailer for "Towheads"!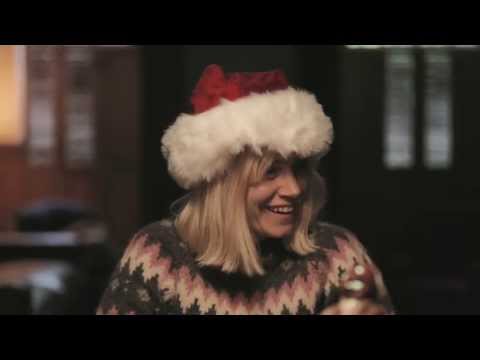 CINEFAMILY INDEPENDENT MIXER: White Reindeer (L.A. premiere, director in person!) + "Bad Xmas Sweater" Afterparty
Home Alone meets Todd Solondz!
Co-presented by FANDOR
Director Zack Clark & star Anna Margaret Hollyman in person — plus, come dressed in your favorite weird holiday gear for our Bad Christmas Sweater afterparty, with eggnog on the patio! When a jet-black satirical comedy tackles its subject with intelligent aplomb, we here at Cinefamily smile — and when a film in that vein backs up the sharp comedy with a genuine warmth, we get an extra-special tingle. Poised to become a perennial indie film holiday tradition, White Reindeer shines with its unique, delicate see-saw balance of acidic observations and affectionate touches. In a breakout, all-too-real performance, Anna Margaret Hollyman (The Color Wheel) is Suzanne, an uptight Xmas-loving woman who, at the dawn of December, finds her dream husband deceased, and her devotion in him dissolved after meeting Fantasia, the exotic dancer with whom he'd been cheating with. As Suzanne slides into Fantasia's fast, wreckless world of dance parties, drugs and shoplifting, filmmaker Zach Clark takes on thirty-as-the-new-twenty, and shows a suburban America where sleaze and sadness may float on the surface, but hope and compassion aren't too far away either.
Dir. Zach Clark, 2013, digital presentation, 82 min.
Watch the trailer for "White Reindeer"!