FREE SNEAK PREVIEW / ANIMATION BREAKDOWN: Rocks In My Pockets (filmmaker Signe Baumane in person!)
free admission (first-come, first-served)
"Boasting a narrative of extraordinary complexity and density, stuffed with irony, humor and tales-within-tales" — Alissa Simon, Variety
Winner of the International Film Critics (FIPRESCI) Prize at the Karlovy Vary Int'l Film Festival, the new animated gem Rocks in My Pockets boasts the highly personal and sweetly absurdist touch of Latvian artist/filmmaker Signe Baumane, who handcrafted this feature film out of papier-mâché, stop-motion and classic hand-drawn animation. With boundless imagination and a twisted sense of humor, Signe tells five fantastical tales based on upon the courageous women in her family, their battles with madness, and, in Signe's words, a casual Eastern European backdrop of "war, divorce, politics, sex, business, education, money, secrets, marriage, power, motherhood and violence." Employing a unique, beautifully textured animation style (with inspiration from Jan Svankmajer and Bill Plympton), Baumane has produced a poignant and often hilarious tale of mystery, mental health, redemption and survival. Signe Baumane in person for a Q&A after the film!
Dir. Signe Baumane, 2014, DCP, 88 min.
NOTE: To help us track attendance, you must pre-register for "first-come, first-serve" admission. Your registration does not guarantee you a seat.
Watch the trailer for "Rocks In My Pockets"!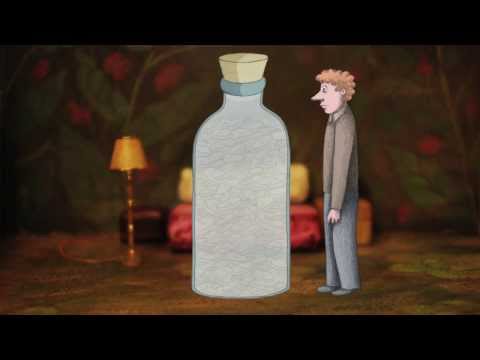 ANIMATION BREAKDOWN: Luca Dipierro's "Paper Circus" (w/ live scores by Father Murphy!)
$14/free for members
"Luca Dipierro's animations contain the blood and guts and mystery of what it means to be alive and on the planet." — Robert Lopez (author, Kamby Bolongo Mean River, Asunder)
Described as "a perfect mix between creepy and charming" by the Huffington Post, the films of Luca Dipierro are carnivalesque tales of acrobacy and death, both sorrowful and comical. This startlingly dedicated artist uses a wide variety of mediums for his adventures in cut-out animation: paper, fabric, dirt, wood, thread, hair, paint, pencils, markers, buttons, wax, glue, tape — and moves his cut-outs on the surfaces of discarded book covers. Join us for Luca's latest shorts collection Paper Circus, with live soundtracks by experimental Italian band FATHER MURPHY — one of the leading bands of what Simon Reynolds (author, Rip It Up And Start Again, Retromania) has termed the "new Italian occult psychedelia." With their orchestrated flow of sounds, music and foley, the result is a hybrid tapestry that braids elements of cut-up, sound collage, performance art, and theater.
Watch the Luca Diperro short "Mundus Novus"!