Animation Breakdown 2015!
With its ability to create enchanting new realities and to tickle our ganglia with its limitless imagination, the animation realm is the most powerfully distilled out of all cinemagical forms. We're pleased the world over to give you Cinefamily's week-long slate of mind-expanding international animation, old and new, shorts and features: Animation Breakdown 2015.
BUY TICKETS ($12 – $20/free for members. Showtimes subject to change):
————————————————————————————————–
Thurs 12/10, 7:30pm: Opening Night: Animation Breakdown Roundup!
Thurs 12/10, 10:00pm: An Animated Evening with Lance Bangs
Fri 12/11, 7:30pm: Rick & Morty Live!
Fri 12/11, 10:00pm: Belladonna of Sadness (L.A. Premiere of the Brand New Restoration!)
Sat 12/12, 12:00pm: MOUSE-TERPIECE THEATER: The Art and Artists Behind Disney's "Mickey Mouse" (2015)
Sat 12/12, 4:30pm: Karel Zeman: Adventurer in Film + Inspiration
Sat 12/12, 7:30pm: Loren Bouchard Show & Tell
Sat 12/12, 10:30pm: Outrageous Video Games III: My So-Called Second Life
Sun 12/13, 12:00pm: High Five!: Creating Nickelodeon's "Pig, Goat, Banana, Cricket"
Sun 12/13, 2:00pm: Invention for Destruction aka The Fabulous World of Jules Verne
Sun 12/13, 4:30pm: HBO's Animals (w/ The Duplass Brothers in person!)
Sun 12/13, 7:00pm: The Ace of Light: The Films of Sky David
Sun 12/13, 9:45pm: Undervolt & Co's Experimental Animation Mixtape
ANIMATION BREAKDOWN 2015: Undervolt & Co's Experimental Animation Mixtape
Live set by DJ Nanny Cantaloop!
Experimental label Undervolt & Co.—run by Yoshi Sodeoka, Johnny Woods and Rea McNamara, and aiming to make accessible the vibrant world of video art—brings us a rapturous mélange of the latest in inventive animation, culled from the portfolios of the label's impressive roster of video artists. Expect spirited gems from Yoshi Sodeoka, Sabrina Ratté, Jennifer Juniper Stratford, Adam Ferriss, Andrew Benson, Johnny Woods, Suzy Poling, Rick Silva, Eva Papamargariti, and Javier Galan Rico, with several of the artists here in person for our big closing night afterparty on the back patio!
See Undervolt artists' work on the small screen too, in a special 9-screen installation on the back patio, revolving around techniques of analog video synthesizers!
ANIMATION BREAKDOWN 2015: The Ace of Light: The Films of Sky David
Prints & Restorations (Ace of Light, Sonoma and A Hard Passage) courtesy of The Academy Film Archive.
Prints (The Green Child, Sky Heart, Luma Nocturna, Aura Corona) courtesy of the iotaCenter Collection at the Academy Film Archive
Co-presented by The IotaCenter and Cinespia Salon. Sky David in Person!
In the latter half of the 1960s, 18 year old Dennis Pies headed off to Vietnam to serve with the 82nd Airborne Division of the US Army. He returned home, as all men did, a different person. One with stories and visions to share. He bought a '46 Chevy school bus and departed his hometown of Lubbock, Texas for a commune in the Santa Cruz mountains. But a fateful pitstop on the way at Cal Arts' notorious (and recently San Fernando Earthquake-rocked) Villa Cabrini campus altered his life's course. It was there that the Pies, armed with absolutely no prior artistic training, began his path to becoming the man and artist known as Sky David. Mystical, dreamlike, and otherworldly — watching a Sky David film is like stumbling into the pages of the Tibetan Book of the Dead, Popol Vuh or I Ching. They unfurl as symbolic, dreamlike narratives of shifting landscapes, both physical and mental, each frame leading the viewer further into uncharted optical realms. Endlessly inventive, David employs techniques ranging from delicate pencil and airbrush drawings, to computer animation, to (in the case of this evening's jawdropping titular film Ace of Light) "hand drawn art on paper, filmed in negative, projected via an aerial image projector into a tank of water, then filmed frame by frame"—all to create visuals striking, haunting and utterly singular. Join us as we celebrate the incredible career of ABD's 2015 honoree and marvel at his films with the premieres of new 35mm and 16mm prints, lovingly restored and graciously loaned by The Academy Film Archive.
Watch the Cinefamily original trailer!
ANIMATION BREAKDOWN 2015: HBO's Animals
Live set from DJ Jenny Nono!
Join creators Phil Matarese and Mike Luciano along with executive producers Mark and Jay Duplass as they offer a sneak peak into the world of Animals.
Animals is an animated series that focuses on the downtrodden creatures native to Earth's least-habitable environment: New York City. Whether it's lovelorn rats, gender-questioning pigeons or aging bedbugs in the midst of a midlife crisis, the awkward small talk, moral ambiguity and existential woes of non-human urbanites prove startlingly similar to our own.
ANIMATON BREAKDOWN 2015: Invention for Destruction aka The Fabulous World of Jules Verne
Co-presented by the Consulate General of the Czech Republic in Los Angeles, Czech That Film, and Screen Novelties
Jules Verne, novelist and chronicler of undersea fantasies, provides the subject material for what is not only Zeman's most popular film but the most successful Czech film of all time, famously screened simultaneously in 96 theaters in New York City upon release, and recipient of the Grand Prix at Expo '58. Invention for Destruction AKA The Fabulous World of Jules Verne is based upon several of Verne's works, especially Face au drapeau (Facing the Flag), a suspenseful and nautical adventure, which in Zemans hands also manages to act as a fairy-tale-like parable on the potential dangers of science (read: atomic energy). As usual, Zeman constructed an astoundingly inventive and immersive universe—on a shoestring—situating his actors firmly in Verne's immense and beautiful world. Using a process dubbed "Mystimation", a combination of live action, animated drawings and lithographs, the screen pops with stylized line-etched, living illustrations in a way unseen before or since. Visually jaw-dropping, poetic and bubbling with imagination, Invention is an incredible big screen experience—and this beautiful new restoration makes it one not to be missed!
Dir. Karel Zeman, 1958, 35mm, 83 min.
Watch the trailer for Invention for Destruction!
ANIMATION BREAKDOWN 2015 - High Five!: Creating Nickelodeon's "Pig, Goat, Banana, Cricket"
Cast & Crew in person!
On paper, Pig Goat Banana Cricket seems too strange for TV, but isn't that always the case with the best kids' show? The newest member of Nickelodeon's toon family has hit the airwaves — and it's bold, adventurous and totally awesome! Born from the brains of renowned indie comic book artists Dave Cooper and Johnny Ryan, the show doesn't hold back on any of their singular giddy weirdness. Harnessing more than a little of the anarchic, gross-out glee of its progenitor Ren & Stimpy, each episode unfurls in a Pulp Fiction-esque cut-up narrative structure, tightly interweaving the titular characters' surreal storylines until their absurdist exploits chaotically collide. The results, both in aesthetic and storytelling, are not quite like anything seen before in a cartoon for wee ones.
Join us as Ryan and award-winning executive-producer David Sacks (The Simpsons, 3rd Rock from the Sun) take us behind the scenes of this deliciously bizarre kiddie confection, followed by a live table read by series voice actors Candi Milo (Foster's Home for Imaginary Friends) as Goat, Paul Rugg (Freakazoid!) as Cricket, and Thomas F. Wilson (Biff from Back to the Future!) as Banana, AND an exclusive sneak peek of a brand-new episode!
Bring the kids and join us on our back patio after the show for a signing with the cast and creators!
Watch the trailer!
ANIMATION BREAKDOWN 2015: Outrageous Video Games III: My So-Called Second Life
Live DJ set from Miles Monroe!
Today, more people experience animation through video games than any other medium. No animation fest in the year 2015 would be complete without some game animation, so ABD is bringing back Most Outrageous Video Games for this year's fest!
Join us as we survey the wildest and weirdest online virtual worlds—where people don't just watch animation, they live it. We've got it all—from the early innovation of vector avatars of NASA's Maze Wars, to the first official virtual world of Lucasfilm's Habitat; from Kool-aid Man's sublime tours of Second Life to the strange addiction of Onlive Traveler, where players continued to live on for over 10 years after the platform failed.
Our rare glimpse into these bizarre worlds will feature excerpts from Avatara, the Vernon Florida of Online Worlds Documentaries, and many surprises!
ANIMATION BREAKDOWN 2015: Loren Bouchard Show & Tell
Live set from DJ White Rainbow!
Join us on the patio afterward for a Bob's Burger Bar featuring recipes created by Loren Bouchard!!! Come hungry!!
Get your butts some tickets, guys! This month, the 'family is bringing you a Show & Tell Special with some Animation Breakdown flavor – Burger flavor – in the form of nerd genius Loren Bouchard! The producer/writer/animator/voice actor/everything-er behind American animation sensations like Home Movies, Dr. Katz, and Bob's Burgers is here with some as-yet unseen, behind-the-counter gems from the brain that's created some of TV's most memorable characters to date (butt-crazy 13-year old Tina Belcher, anyone?). Be sure not to miss it – past Show & Tells have featured the deep/dark secrets of our favorite creative minds, and knowing Bouchard, this one will be wild.
Whether improvised or scripted (or both!), Loren Bouchard's oft-laureled (Burgers has an Emmy) and always cult-favorited (Home Movies lives on!) cartoons are iconic for their tack-sharp wit, lysergic animation and earnest yet sarcastic portrayals of American family angst. So let's celebrate our familial ties this holiday season by gettin' a little boozy, laughing our asses off and tuning in to one of animation's contemporary legends for this edition of Show & Tell!
ANIMATION BREAKDOWN 2015: Karel Zeman: Adventurer in Film + Inspiration
Live set from DJ Jasmin Blasco!
Co-presented by the Consulate General of the Czech Republic in Los Angeles, Czech That Film, and Screen Novelties
Join us on a Journey to Prehistory… the prehistory of special effects! Before CGI, before there were entire teams of post-production technicians, before the endless barrage of high-budget fantasy films, early animator Karel Zeman was creating technically astounding visual masterpieces, using the kind of masking and in-camera editing that is arduous enough for a still photographer; for a filmmaker it was painstaking (and high-stakes!) labor. We are so excited to introduce the Cinefamily audience to Zeman, who is heralded and beloved in the Czech Republic and among hardcore animation fans, and is too little known outside these niches! Untrained as a filmmaker, Zeman taught himself how to animate by studying film prints of Felix the Cat cartoons, and hired artisans and craftsmen, not filmmakers, to aid him in creating immersive fantasy worlds, rife with "analog" special effects, and a contagious playfulness and conviviality. In this charming documentary portrait, Zeman's former collaborators and fans (filmmakers Terry Gilliam and Tim Burton among them) speak of the mythical life and work of this impossibly innovative director, artist, magician, and perfectionist force.
Dir. Tomás Hodan, 2015, DCP, 80 min.
A sparking, splendorous, 35mm strip of joie de vivre, Inspiration is perhaps Karel Zeman's most dizzyingly impressive work. With unimaginable precision, Zeman tells a story in a fragile, miniature world, animating hand-blown glass! He's master of this delicate universe, like a painter, sculptor, and dreamer all at once. You've got to see this one to believe it.
Dir. Karel Zeman, 1949, 35mm, 10 min.
Watch the trailer for Karel Zeman: Adventurer in Film!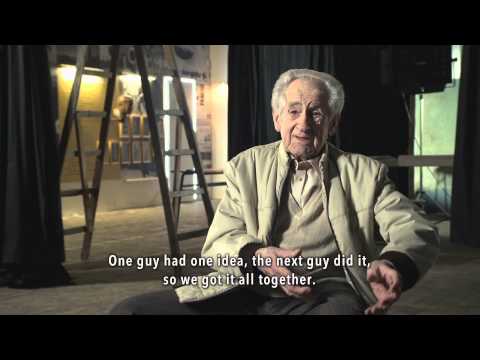 ANIMATION BREAKDOWN 2015: MOUSE-TERPIECE THEATER: The Art and Artists Behind Disney's "Mickey Mouse" (2015)
Co-presented by Saturday Morning Cartoons
Believe it or not, the funniest, most visually exciting/most cutting edge cartoons made for television today star a well-known corporate icon who dates back to 1928. Yes, the Mouse – the one originally voiced by Uncle Walt himself, though you might know him better as the Sorcerer's Apprentice, The Brave Little Tailor or simply as Mickey. The characters has been given a complete make-over for the 21st Century – and in case you haven't seen the latest series of Disney's Mickey Mouse shorts, Animation Breakdown will bring you up to speed. And "speed" is the operative word here – these colorful 4 minute cartoons are fast paced and funny, and insanely imaginative. This is not you great grandfathers "Mickey Mouse". You'll see Mickey and the gang (yes, with Donald, Goofy, Minnie, Daisy and Pluto) run rampant in episodes taking place in different locales, in different languages, and beyond international time zones. They even play havoc with classic characters in Disney history. We'll be screening the best of this new batch, inter-mixed with classic pre-code 1920s-30s Mouse cartoons to demonstrate how the new generation didn't fall too far from the original tree. M-I-C… See these on the big screen with moderator Jerry Beck (Animation Scoop) and the producers, directors and artists behind this once-in-an-80-year reboot. K-E-Y – Why? Because we love you! M-O-U-S-E. Mouseketeer caps: optional.
Watch a clip!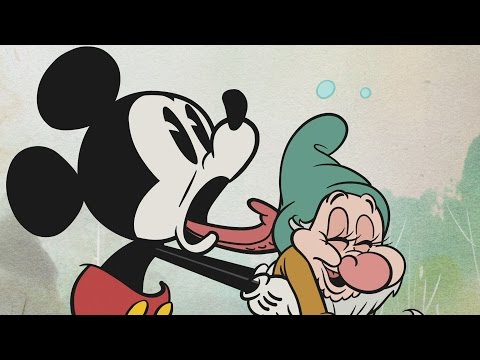 ANIMATION BREAKDOWN 2015: Belladonna of Sadness (L.A. Premiere of the Brand New Restoration!)
Co-presented by SpectreVision and Cinelicious
One of the great lost masterpieces of Japanese animation, never before officially released in the U.S., Belladonna of Sadness is a mad, swirling, psychedelic light-show of medieval tarot-card imagery with horned demons, haunted forests and La Belle Dame Sans Merci, equal parts J.R.R. Tolkien and gorgeous, explicit Gustav Klimt-influenced eroticism. The last film in the adult-themed Animerama trilogy produced by the godfather of Japanese anime & manga, Osamu Tezuka and directed by his long time collaborator Eiichi Yamamoto (Astro Boy and Kimba The White Lion), Belladonna unfolds as a series of spectacular still watercolor paintings that bleed and twist together. An innocent young woman, Jeanne (voiced by Aiko Nagayama) is violently raped by the local lord on her wedding night. To take revenge, she makes a pact with the Devil himself (voiced by Tatsuya Nakadai, from Akira Kurosawa's Ran) who appears as an erotic sprite and transforms her into a black-robed vision of madness and desire.
Extremely transgressive and not for the easily offended, Belladonna is fueled by a mind-blowing Japanese psych rock soundtrack by noted avant-garde jazz composer Masahiko Satoh. The film has been newly restored by Cinelicious Pics using the original 35mm camera negative and sound elements – and including over 8 minutes of surreal and explicit footage cut from the negative. On par with Rene Laloux's Fantastic Planet and Ralph Bakshi's Wizards as an LSD-stoked 1970s head trip, Belladonna marks a major rediscovery for animation fans. If Led Zeppelin had a favorite film, this would be it. In other words, Stairway to Hell. (Dennis Bartok, Cinelicious)
Dir. Eiichi Yamamoto, 1973, DCP Restoration, 93 min.
ANIMATION BREAKDOWN 2015: Rick & Morty Live!
Live set from DJ Jimi Hey!
Season 2 is over, the wait for season 3 seems eternal, and you need more R&M in your life STAT… well you're in luck—The Cinefamily has got you covered! Join creators Justin Roiland and Dan Harmon, along with writer Ryan Ridley, for an improvised episode of Rick and Morty!
Armed with a Cintiq tablet, Justin will accompany the improvised insanity with live drawing and general drunken high energy madness. Then join us for a Q&A with with creators and special guests, Beth and Jerry (Sarah Chalke and Chris Parnell)—Wubalubadubdub Motherfuckers!
ANIMATION BREAKDOWN 2015: An Animated Evening with Lance Bangs
Lance Bangs hosts an animated evening, featuring a curated mix of his work over the years, and the world premiere of animated stories from his new Viceland television series Party Legends!
Lance will show us gems from the course of his career, sharing stories along the way, including: the Kanye West music video for Heard Em Say (animation by Bill Plimpton), the stop motion video for "White Stripes Hardest Button to Button" for Michel Gondry, and the hand drawn on 35mm film animation Marissa Paternoster did for the Screaming Females song "Hopeless."
Plus, we'll indulge in a marathon of Party Legends episodes, featuring Jon Daly, Bushwick Bill, Earl Sweatshirt, Eric Andre, Kid Ink, David Pajo, Chris Pontius, Dave England, Margaret Cho, Sean Patton, Dennis Rodman, Lizzo, and Ryan Sickler! Chris "Party Boy" Pontius and Jon Daly will be here in person!
ANIMATION BREAKDOWN 2015 Opening Night: ABD Roundup! 3
Hey kids! It's baaa-aaack! Animation Breakdown's Alex McDonald and Kevin Sukho Lee (Yo Gabba Gabba!'s animation producer) have curated another assortment of eye-poppin' awesomeness for ABD's signature program of animated shorts from around the globe, most of them never before screened in LA. Roundup's mission is to showcase the state of contemporary animation – from the silly to the sublime, the surreal to the stupid, and everything in between. This 2015 edition delivers a made-to-order feast for the adventurous Cinefamily filmgoer who's hungry for strange Simpsons tributes, inter-galactic inter-species sexual encounters, body part rebellion, animal love, and cartoony crime sprees, to name but a few of the delights served up. So hang on to your butts and say it with us: Tune in, Turn on, and ROUNDUP!
Featuring:
- Deep Space (dir. Bruno Tondeur)
- Life with Herman H. Rott (dir. Chintis Lundgren)
- Swap Meet (dirs. Various Artists)
- First Date (dirs. Joseph Bennett, Matt Furie)
- Cody's Positive Affirmations (dir. Joseph Bennett)
- menagerie (dir. Julian Gallese)
- Bartkira the Animated Trailer (producer Kaitlin Sullivan)
- Sports Nuts (dir. Marc M. / Sick Animation)
- Apple Pie (dir. Marc M. / Sick Animation)
- Loop Ring Chop Drink (dir. Nicolas Ménard)
- Bath House (dir. Niki Lindroth von Bahr)
- Pentimento (dir. Remy Schaepman)
- Amaro and Walden's Joyride (dirs. Tim McCourt, Max Taylor)
- Super Turbo Atomic Ninja Rabbit (dir. Wesley Louis)
- An Emo Nose (dir. Wong Ping)
- Weird Simpsons VHS (dir. Yoann Hervo)
- Candy Power Dorothy (dir. Yong Hoon Joe)
Watch the Cinefamily original trailer!