Our L.A. premiere screening of the new documentary Better Than Something: Jay Reatard is happening this Thursday, 7:30pm, as part of the ongoing music doc series Don't Knock The Rock, curated by Allison and Tiffany Anders — and as prep to get you even more stoked about the show, here's guest blogger Jordan Cronk (writer for PopMatters, cokemachineglow and In Review Online) with an impassioned overview of the career of the late Jimmy Lee Lindsey, Jr. (aka Jay Reatard). Read some more of Jordan's film writing on Godard, Altman and Apichatpong Weerasethakul!
CLICK HERE FOR TIX TO THURSDAY'S 7:30PM SCREENING @ CINEFAMILY OF "Better Than Something: Jay Reatard"!
I first became aware of Jimmy Lee Lindsey, Jr. in 2006, via his first album under the Jay Reatard moniker, "Blood Visions". It wasn't until much later, however, that his career began to make sense outside this airtight, sub-30 minute adrenaline rush of a record. Breaking through at a time when garage-rock was at its resurgent peak, Lindsey nonetheless ran his own course around the traditional indie circuit, unloading a barrage of 7" singles in lieu of a proper follow-up to "Blood Visions." Unlike his contemporaries in the Black Lips or other alter-ego stamped personalities like King Khan or Mark Sultan, the Memphis-based Lindsey seemed ideologically beholden to an era of punk ten-plus years the senior of many of his colleagues' acid-fired garage rock. Up until his unexpected death in January 2010 at the age of 29, Lindsey kept his priorities set squarely on the music at hand, only returning with another full album after his Kiwi-pop experiments and new adventures in melodic noise-pop had fully developed across these small-run 7″ vinyl releases. It seemed for a number of years that a month couldn't go by without a new Jay Reatard track hitting the web, despite the fact that his last four years of activity yielded only two proper full-lengths. It never quite seemed like too much, but now, almost two years later, it feels like not nearly enough.  
Watch Jay Reatard perform "My Shadow" live!


Like most people, however, I only came to Jay Reatard about halfway into the man's career. In the late '90s, inspired by local Memphis garage-punk legends the Oblivions, Lindsey formed the spiritually descendant Reatards around himself, adopted the surname we now commonly know him by, and eventually recruited a band to laid down a series of lower-than-lo-fi albums and singles, including his first cassette release, "Fuck Elvis, Here's the Reatards" (recently reissued by Goner Records alongside his first proper LP, 1998′s "Teenage Hate".)
By the time of their official debut, the Reatards had solidified into a sloppily intuitive three-piece, with the equally ridiculously named Elvis Wong and Steve Albundy propping up Lindsey as he violently unleashed diatribes with such plainly exposed titles as "I'm So Gone," "You Fucked Up My Dreams," and "I Can Live Without You." It's almost stupidly simple music, borne of a young mind (Lindsey was anywhere between 15-17 when he wrote these songs) with an uncommon passion for a genre which, by the time the mid-'90s rolled around, had splintered from hardcore into grunge and eventually into alt-rock, and was about to revert to hipper touchstones by the turn of the millennium.  
I feel fortunate to have at least experienced what can now be thought of as Lindsey's "mature" period as an artist. He cut his teeth in at least a half a dozen other bands and side projects (many of which are being lined up for reissue as well), yet by the time he arrived as an official solo concern and signed to the higher profile In the Red imprint in 2006 (he would eventually settle down with Matador for his finally series of releases, including his last album), Jay Reatard was a well oiled machine, as "Blood Visions" bears out across thirteen visceral, maladjusted classics.
I had the opportunity to write about all four full-length solo Jay Reatard records (two albums and two singles collections) for various outlets, each at the time of their release but never with faintest thought that he had reached any sort of end point. And listening to them today, I still don't: without ever betraying his artistic integrity, each of these records still feels like the latest and greatest iteration of the Jay Reatard persona. One of Lindsey's most straightforwardly affecting lyrics finds the eternally Flying V-strapped guitarist repeating, in a casual, resigned manner, "There is no sun/ For me / There is no sun / For me." This happens to be the closing refrain from what would turn out to be his final album, "Watch Me Fall". But if nothing else we can rest assured knowing Jay never got anywhere close to falling; if anything, he's still flying high.  
Watch Jay Reatard perform "Nightmares" live!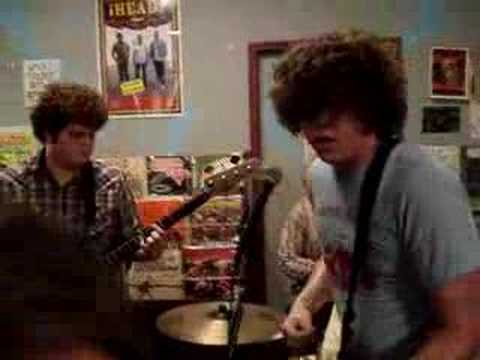 Watch Jay Reatard interviewed at Amoeba Records for their "What's In My Bag?" series!