Contempt – 7:45pm
Filmed in glorious, panoramic Technicolor on location in gorgeous coastal Italy, and starring the iconic Brigitte Bardot(!) as the wife of a screenwriter alongside Fritz Lang(!!) as Fritz Lang(!!!) directing an adaptation of Homer's "Odyssey," Contempt shows that when Godard goes big, he goes tres, tres big. Three years after he made his groundbreaking debut Breathless for mere pennies, Jean-Luc was able to shoot this subversive million-dollar meditation on moviemaking (and its marital consequences), bankrolled by two of the biggest producers in the industry. Managing to celebrate and subvert the language of mainstream filmmaking simultaneously, Contempt trades Godard's trademark kineticism for a style that's as solidly graceful as the Greek sculptures in Lang's film-within-the-film. Part love story in reverse and part meditation on the commercialization of art, Contempt is one of the most aesthetically disciplined and visually distinct entries in Godard's pantheon of films about films, and just might be the most poignant.
Dir. Jean-Luc Godard, 1963, 35mm, 103 min.
Film Socialisme – 9:45pm
A scintillatingly deconstructed filmic essay that's as lyrically persuasive as it is visually and sonically fractured, Film Socialisme might be Godard's most rigorous and thorough reinvention of cinema yet. Opening on a cruise ship in the middle of the Mediterranean sea , the film unfolds elegantly into a global tryptic whose second panel shows us a family-run garage in France, and whose final segment explodes across a half-dozen historical Mediterranean nexus points. A humanist critique of how culture and commerce intersect and collide across international borders, Film Socialismes kaleidoscopically color-saturated screen overflows with life – spies, would-be-presidents, ornery children, Patti Smith(!), immigrants, and even a llama help make up the film's populist panorama. The soundscape is an even more densely populated, intricately edited polyglot maze of overlapping languages and ambient recordings. For all its fractured experimentation, Film Socialisme is nearly seamless — it doesn't so much shatter cinematic conventions as melt them. Our screenings of Film Socialisme are presented with FULL English subtitles (for the first time ever in the U.S.!), rather than previous international screenings' "Navajo English" subtitles.
Dir. Jean-Luc Godard, 2010, HD presentation, 102 min.
Watch the trailer for "Contempt"!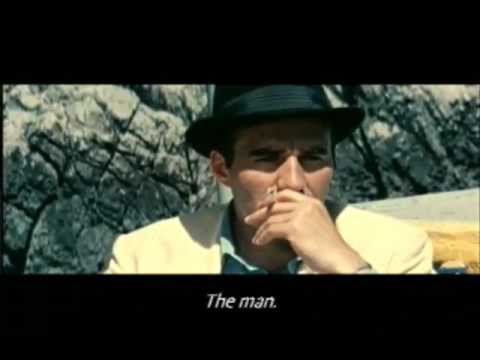 Watch the trailer for "Film Socialisme"!