The Kaleidoscopic Universe of Frank Mouris (on 35mm & 16mm!) – 8:00pm
Every so often, a film comes across your field of vision that completely bowls you over, making your head reel for days afterwards while filling you with the intense motivation to get out there and truly experience life. Frank Mouris's Frank Film has this power. Winner of the 1974 Oscar for Best Animated Short Film, it's comprised of 11,000 photographic images that tell the chronological story of Mouris's life, sequenced in a rapid-fire explosion of color and restless, unstoppable movement; as the film gets wilder over its brief minutes, it transcends autobiography to become a stirring summation of our collective human experience. Throughout his career, Frank and his wife Caroline have made several other seminal, deeply moving works that equal Frank Film in their candor and rich visual palate; join us for 16mm & 35mm screenings of not only Frank Film, but Coney, Frankly Caroline, Impasse and Screen Test as well! These five films have not been screened in the U.S. all together in one program since 1980, which makes this show genuinely a one-of-a-kind event!
La La, Making It In L.A., plus Julia Holter live! – 9:30pm
After intermission, first up is a live music set by Julia Holter! The hypnotic and beautiful music of Julia is nothing short of enchanting, and we can't recommend her enough. You may have caught her playing around town as a solo artist, or heard her play here at Cinefamily with Linda Perhacs. Her first LP has just been released, and they've been playing it non-stop at Cinespia HQ all week!
"A hip, flip, manic and depressive look at fifty-five very outgoing introspectors who came to the pop cultural capital of the United States to make it big with a capital L and a capital A." — Tom Shales, Washington Post
For the special bonus feature after Julia's live set, we've got an ultra-rare Frank Mouris film that has all the right elements to make you salivate: a) dozens of Hollywood wannabes doing gossipy confessional talking-head interviews directly into the camera, Errol Morris-style, about lessons learned in the acting biz: the casting couch, how to play the game, how to change you name; b) recognizable now-famous faces mixed in with the obscure never-has-beens; c) animated sequences; and d) time-lapse photography of late-'70s Los Angeles! Don't you want to see this long-lost, juicy, crazy-sounding documentary funded by PBS, all backed by music from some of the aspiring musicians in the film??
Watch our trailer for "The Kaleidoscopic Universe of Frank Mouris"!

Watch an excerpt from Frank Mouris's "Coney"!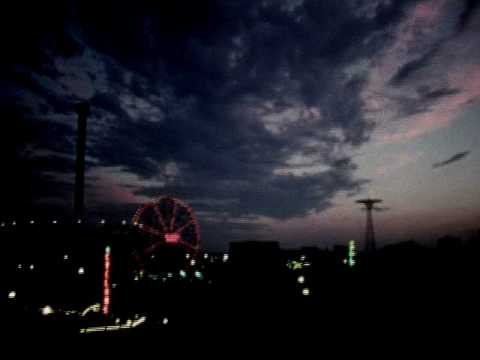 Watch an excerpt from Frank Mouris's "Frankly Caroline"!