AC/DC: Let There Be Rock (archival 35mm print!) – 8:00pm
Interviewer: "Do you think that there will be a Third World War?" Angus Young: "I am the Third World War." — AC/DC: Let There Be Rock
Bathed in colors as vibrant as an adolescent acid trip, their amps stacked skyward and blaringly loud, stands the scruffy supergroup AC/DC. In front of them, thousands of rock-enthralled Parisians, banging their heads into oblivion and offering up cigarette lighters in tribute to these Aussie Gods of Riffery. Let There Be Rock is a megavolt surge of pure, testosterone-pumped, bell-bottomed bliss that will keep your toe tapping 'til it turns black. With Bon Scott on vocals, (stuffed into a hell of a sexy denim getup) and the impossibly energetic Angus Young playing the ever-loving fuck out of his axe, tearing back and fourth across the stage in wild beat-induced gyrations! Packed with a ton of awesome footage including an extended sports-car-vs.-plane race, incoherent drunken interviews and the urban adventures of this young studly band of scoundrels, Let There Be Rock is one of the most thrilling, thunderous filmed concerts of all time.
Dirs. Eric Diyonsus & Eric Mistler, 1980, 35mm, 95 min.
ABBA: The Movie – 9:45pm
Whether you're an ABBA worshipper (and who isn't, deep down, to at least some degree?) or just a casual ABBA-server, ABBA: The Movie will blow you away with its impeccably photographed vistas of what was, at the time of the film's making, the single Biggest Band On Earth. To Australians in 1977 in the throes of Anni-Frid/Benny/Bjorn/Agnetha fever, the band's arrival for a countrywide tour was akin to The Second Coming, and this brilliant grab-bag Panavision fantasy — comprising majestic arena concert sequences, eye-popping music videos, teary-eyed fan freakouts, vérité glimpses into the behind-the-scenes ABBA machine and a bookending fictional through-line (about a bumbling radio DJ attempting to score a band interview) — is all tied together by Lasse Hallstrom (yup, the future director of The Cider House Rules and Chocolat) with the glitzy panache of a hundred Xanadus.
Dir. Lasse Hallstrom, 1977, HD presentation, 95 min.
Watch a vintage TV commercial for "AC/DC: Let There Be Rock"!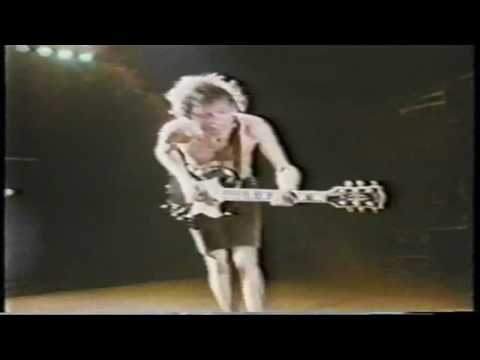 Watch Cinefamily's original trailer for "ABBA: The Movie"!