A Woman Is A Woman – 7:30pm
Godard's first in color and Cinemascope, A Woman Is A Woman is a bright, playful opera of opposition to the very end, with every moment a potential opportunity to burst into song and dance. In fact, the score is intrinsically linked to the characters' melodic cadences, and their flippant, free-spirited actions. Youthfully veiling topics like politics, relationships, and the inherent challenges of love with care-free quips about correct pronunciation and book titles, characters casually break fourth walls, ride bicycles 'round dining room tables, and engage in highly competitive pose-offs. In her feature debut, Godard muse Anna Karina plays free-spirited beauty Angela, an impassioned striptease artist who yearns desperately for a child, tearing her between two men (Jean-Paul Belmondo and Jean-Claude Brialy) engaged in lively competition for her affections. Every visual and aural element in this no-questions-asked, self-referential smoky dreamscape of conceptual editing and musical direction is lightheartedly collaged into a delectable New Wave melting pot of experimentation, producing one of the ultimate paradigm-shattering takes on the classical romantic comedy.
Dir. Jean-Luc Godard, 1961, 35mm, 85 min.
Film Socialisme – 9:15pm
A scintillatingly deconstructed filmic essay that's as lyrically persuasive as it is visually and sonically fractured, Film Socialisme might be Godard's most rigorous and thorough reinvention of cinema yet. Opening on a cruise ship in the middle of the Mediterranean sea , the film unfolds elegantly into a global tryptic whose second panel shows us a family-run garage in France, and whose final segment explodes across a half-dozen historical Mediterranean nexus points. A humanist critique of how culture and commerce intersect and collide across international borders, Film Socialisme's kaleidoscopically color-saturated screen overflows with life – spies, would-be-presidents, ornery children, Patti Smith(!), immigrants, and even a llama help make up the film's populist panorama. The soundscape is an even more densely populated, intricately edited polyglot maze of overlapping languages and ambient recordings. For all its fractured experimentation, Film Socialisme is nearly seamless — it doesn't so much shatter cinematic conventions as melt them. Our screenings of Film Socialisme are presented with FULL English subtitles (for the first time ever in the U.S.!), rather than previous international screenings' "Navajo English" subtitles.
Dir. Jean-Luc Godard, 2010, HD presentation, 102 min.
Watch the trailer for "A Woman Is A Woman"!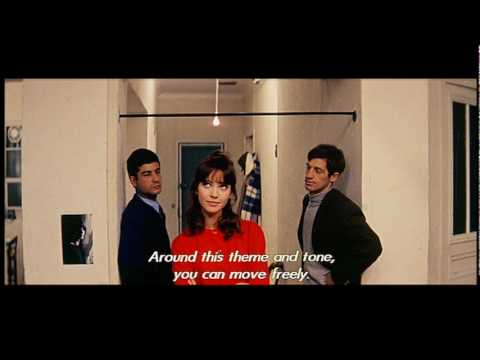 Watch the trailer for "Film Socialisme"!